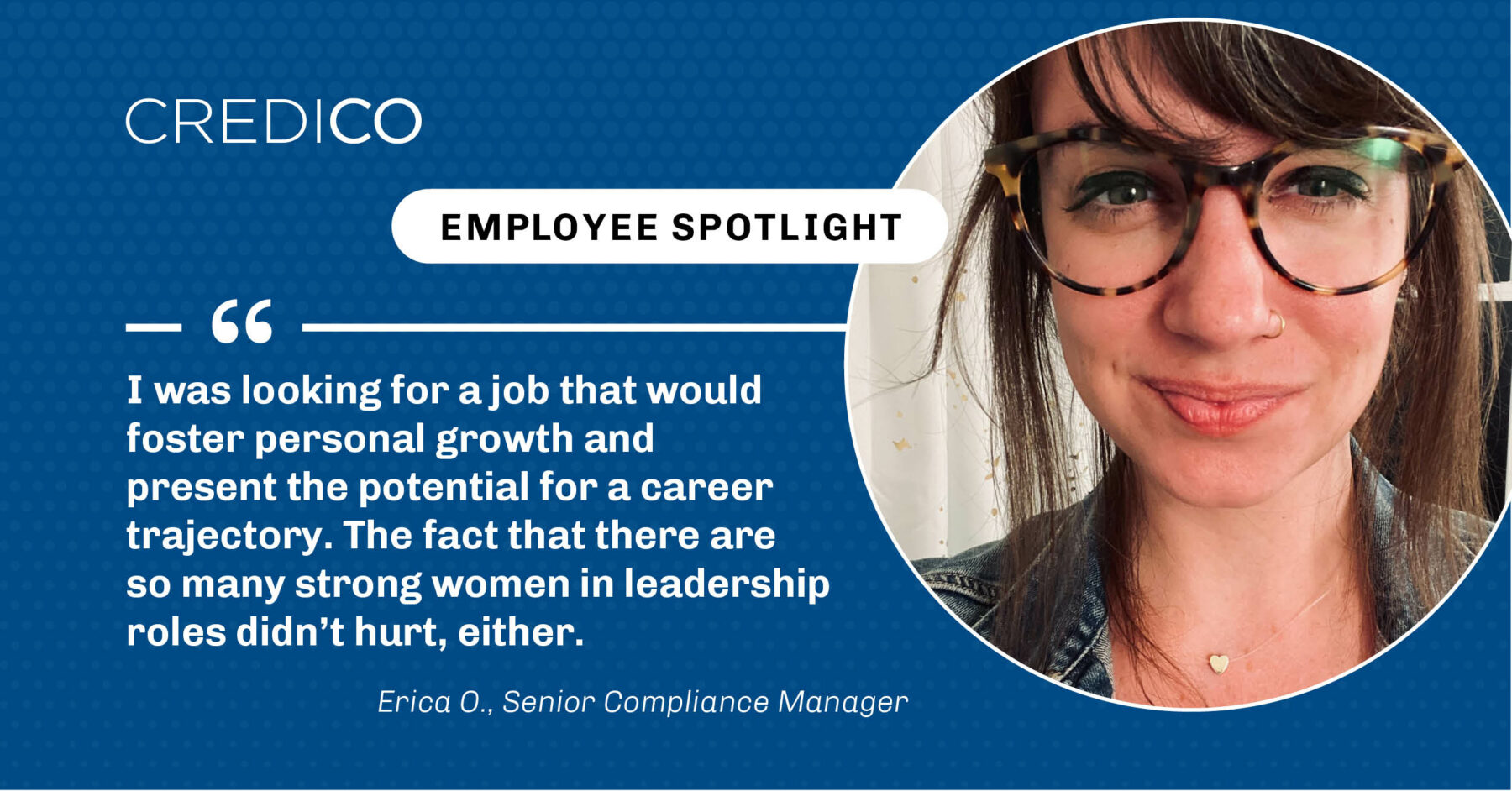 Credico is a well-known global outsourced sales company. With offices in Canada, the United States, United Kingdom, and South Africa, Credico shares the success of this great organization with our team. We are fortunate to be comprised of an impressive, dedicated, capable team of deeply committed, skilled, and inspiring people who choose to lend their talents to our purpose every day. Like most Employee Spotlight campaigns, the goal is to highlight a team member for who they are and what they do. However, our goal is a little different; we'd like to share the global stage with people who call Credico their work home.
Without further ado, we'd like to introduce to you this week's featured employee – Erica O. She's a senior compliance manager who started as an account manager in August 2017. We appreciate Erica for the skills she brings and would love to join her and her pup, Sadie, for dinner.
What do you do at our company?
I manage compliance-related items for the Legal department, which covers a broad range of things from complaints and violations to data and PI retention, business licensing, internal policy-writing, auditing, and more. Recently, I've been awarded the pleasure of overseeing our amazing Onboarding team!
What brought you to want to work at Credico?
I was looking for a job that would foster personal growth and present the potential for a career trajectory. The fact that there are so many strong women in leadership roles didn't hurt, either.
How long have you worked at Credico?
I've been here for four years, and let me just say that this is a lot more interesting than working with barcodes. Only marginally more fun than working at a hot dog cart.
What has been your favorite project so far?
I was very excited to nerd out and research FTC guidelines on disclosures, privacy policies, and general e-mail and online ad etiquette to present to the FG team earlier in the year.
Can you take us through a day in the life for you at Credico?
No day is ever the same! Though, I will say every day begins with a cup of coffee. I run through my e-mails, attend a couple of standing meetings, but my projects and my self-appointed objectives are ever-changing.
What do you like most about working at Credico?
Of course, I'm going to lead with "the people." This is not exclusive to my team, but to every person I interact with in every department. Credico is rife with a bunch of fun characters who not only have a great sense of humor but are also forward-thinking, dynamic, and intelligent.
What would you like to ask our CEO?
Hey John Zavoyna, AKA JZ, what's your favorite band?
Can you share the best career or life advice you've received?
I hold this Kurt Vonnegut quote near and dear: "Hello babies. Welcome to Earth. It's hot in the summer and cold in the winter. It's round and wet and crowded. On the outside, babies, you've got a hundred years here. There's only one rule that I know of, babies-Damn it, you've got to be kind." Emphasis on the 'be kind.'
How do you spend your time when you're not working?
I do a lot of reading and fiction writing in my free time. I also love cooking with my husband (we're working through every recipe in an Anthony Bourdain cookbook right now), riding bikes, supporting local music venues and musician friends, and trying to dazzle my friends in my backyard with new cocktail recipes.