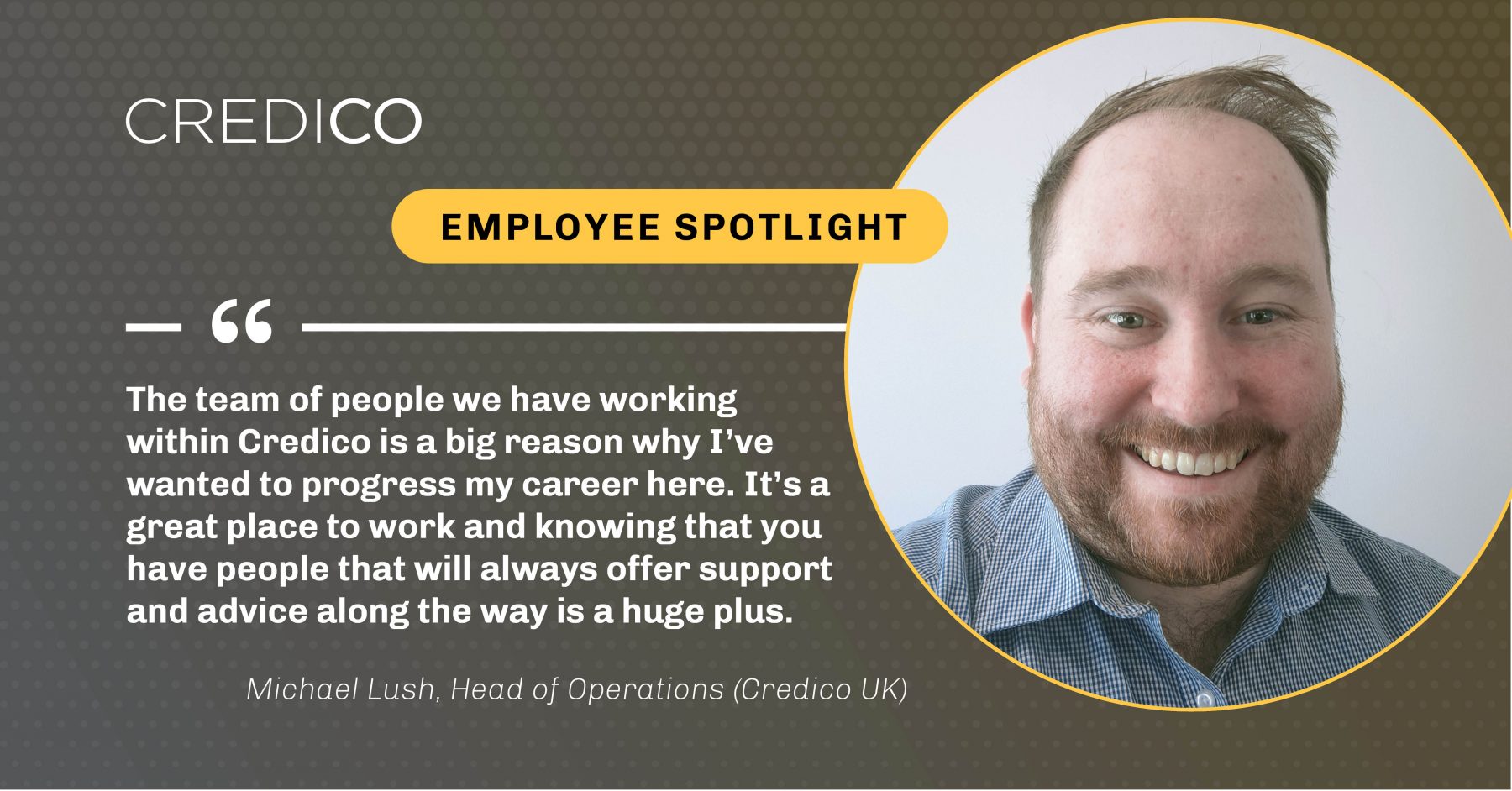 Credico is a well-known global outsourced sales company. With offices in Canada, the United States, United Kingdom, and South Africa, Credico shares the success of this great organization with our team. We are fortunate to be comprised of an impressive, dedicated, capable team of deeply committed, skilled, and inspiring people who choose to lend their talents to our purpose every day. Like most Employee Spotlight campaigns, the goal is to highlight a team member for who they are and what they do. However, our goal is a little different; we'd like to share the global stage with people who call Credico their work home.
We'd like to introduce this month's featured employee – Michael Lush, Head of Operations for Credico UK. We discuss taking leaps of faith, never being afraid to ask questions, Man United, and family life.
What do you do at Credico?
I'm the Head of Operations for Credico UK, overseeing everything operational from tablets to territory whilst providing back-office support to our UK sales offices and looking into innovative ways to improve our current operational processes/systems and way of working. I'm supported by my incredible team of Warren Cavanagh (Territory Manager), Georgia Sheldon, Jamie Collins (Operations Coordinators), and the best badger in the UK, Clare Bardsley (Badging and Compliance Assistant).
What brought you to want to work at Credico?
When I joined Credico back in 2008, I worked for my local council and was looking for somewhere to get my teeth stuck into. I wanted a job where I could make a career for myself. I was 18 and didn't know what I was looking for, other than I wanted to start earning for myself and start looking ahead. The opportunity at Credico came about by chance, and since my first day, I've never really looked back!
How long have you worked at Credico?
April 21st, 2022, marked my 14th year at Credico. The leap and decision I made back in 2008 paid off; starting my journey as an Administrator to now being Head of Operations has been a challenging and enjoyable learning experience. I'll always look back on it and be glad I chose to join Credico. Over the years, I've met some great colleagues, and some have even become greater friends.
What has been your favorite project so far?
Over the years, there have been way too many to mention, from helping set up the PFS charity fundraising campaign back in 2014 to helping mentor and support my two former operations coordinators. They are now in the roles of Junior Campaign Managers. One that really stuck out for me is when I was seconded to help out a client run their back-office operations; this came at a time I felt I was ready to kick on that extra step, and it's helped me gain the further experience and a knowledge base I needed to help improve me as a person and assist me in my current role of Head of Operations.
Can you take us through a day in your life at Credico?
I'm not sure I can, as things change quickly, and you could have a whole day planned out for it to change completely in an instant (I guess this is what I really love about Credico). I could be looking into territory detail and performance to sorting out a tablet issue that has affected our ability to make sales or in the middle of spending time with the team, and then we suddenly get a notification that a new office or campaign is starting on Monday when it's currently Friday. The fast-paced environment is fantastic, which I really thrive off as I look at it as a competition. We need to get all the boxes ticked ASAP, which really shows the team ethic we have in operations as we can pull together when it really matters and at a moment's notice.
What do you like most about working at Credico?
The team of people we have working within Credico is a big reason I've wanted to progress my career here. It's a great place to work, and knowing that you have people that will always offer support and advice along the way is a huge plus.
Another thing I like is the feeling of the "unexpected;" the fast-paced environment is something I really love as your day is never the same as the previous one. The one thing that stands out for me is how my mindset has changed since the early days; I now look at passing on my knowledge and experience to the newer members of the Credico operations team to help them get to where they want to be.
What would you like to ask our CEO?
I've been here since 2008 and what I'd like to ask Ian is, what's your memorable moment at Credico over the years and if there's one specific time or incident that sticks out most?
Can you share the best career or life advice you've received?
Be honest, hold your hands up if things go wrong, and never be afraid of asking for help if you're unsure. But most of all, be yourself. You are at your best when you are fully engaged in what you are doing.
How do you spend your time when you're not working?
Well, seven months ago, my time spent outside of work changed for the better; I now have my amazing daughter Lily. Therefore, most of my time is spent entertaining her when I'm not working whilst making sure we get plenty of family time and my amazing wife, Annie! I'm a social freak also, so love meeting up with friends down at the pub, love travelling (not done any since Lily arrived – that needs to change!), and enjoy going out for a good steak! We also recently became members at Chester Zoo, so we are out visiting the zoo a lot of the weekends!
If you could have dinner with anyone (and we mean anyone), who would it be and why?
Being a Manchester United fan, it would probably be Sir Alex Ferguson, the life stories he has, the experience of winning everything domestically in English & European football, the players he's managed, the list is endless. It would be a pleasure to share the dinner table with him!