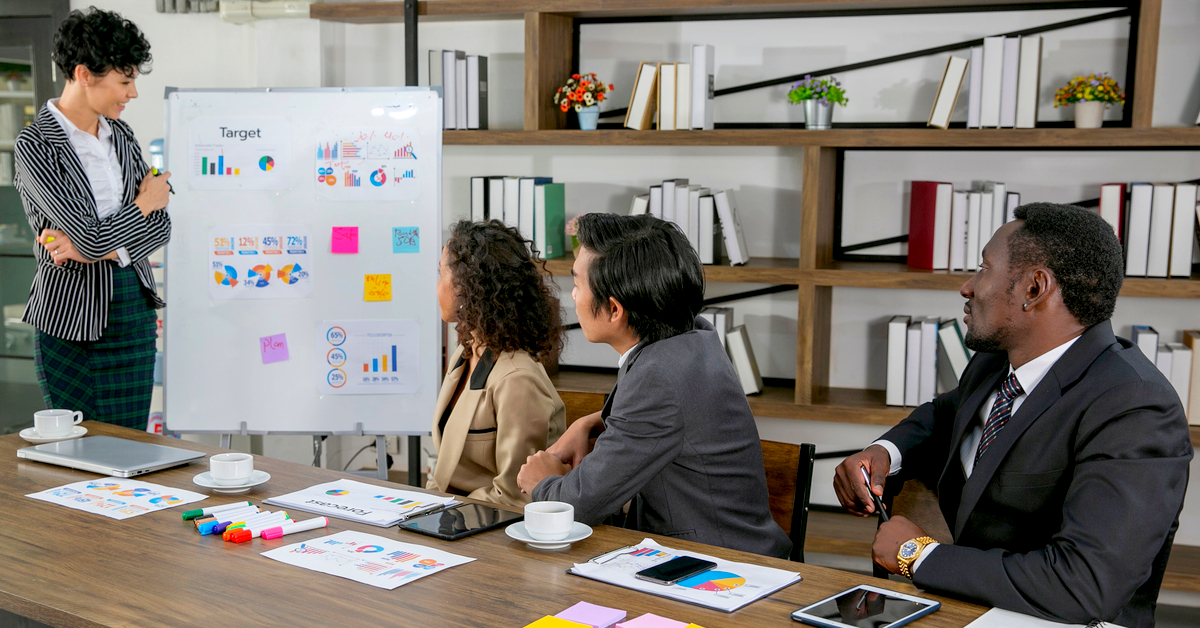 Often, sales targets can be misunderstood, and many businesses make them unattainable figures that push employees to feel overwhelmed. Targets should be realistic while also ambitious.
The seven Ps of marketing are a great way to analyze your company's market position and set aligned sales targets. These Ps represent Product, Price, Promotion, Place, Packaging, Positioning, and People. As the needs of customers, products, and markets change rapidly, businesses must continually revisit them to ensure their firm is on track and understands the estimated sales possible in the current marketplace.
Each of the seven Ps presents a set of questions to ask yourself about your firm when analyzing your market positioning:
Product: What is your selling point that makes your product/service better than your competitors? Could you develop an area of superiority? Should you be offering this product or service in the current marketplace?
Price: Is the cost of your product/service still in line with the realities of the current market? Have too many competitors undercut us? Do we need to reevaluate, or is there a high demand for a premium product?
Promotion: Are our potential clients aware of our brand? Are we targeting them in the right places to meet the touchpoint minimum requirements for sale?
Place: Have we reviewed and reflected upon the exact location where the customer meets the salesperson? Are we present both offline and online?
Packaging: Is the way your brand is physically represented right for your ideal customers? Are your USPs clear on the packaging? Does your website represent your brand?
Positioning: If you could create the ideal impression in the hearts and minds of your customers, what would it be?
People: Are we hiring the right people that understand how to sell our product/service?
Once you've analyzed your business and determined that you're doing all of the above, you need to analyze your actual marketplace. This may include actions such as examining how many potential clients exist.
For example, if you only have 20 potential clients in your marketplace, setting a goal to acquire all 20 may be unrealistic. Look to understand your customer sales journey – can your offering be purchased on the spot as an impulse purchase, or does it require months of nurturing?
Sales targets should be SMART: Specific, Measurable, Achievable, Realistic, and Timely.
Once you have decided on the SMART targets most appropriate to your business, you must establish a strategy to achieve them.
Some acquisitions will be of new clients, but others may be upselling to existing clients. Sales teams can learn a lot by ensuring that anything that has led to an acquisition or an upsell has been tracked to take advantage of the data-led successes within your buying cycle, then repeat them.
You should then devise a strategy to determine how your team should split their efforts between nurturing existing clients and getting new clients on board. To do this, you can look back at the typical churn of clients to see where your sales targets should be set.
For example, if you lose two clients simultaneously as you win two clients, you have effectively not added any additional revenue. So, your strategy in cases like this might be to focus on upselling or keeping their contracts rolling instead of focusing entirely on new clients. The KPIs you set may be based on overall revenue rather than the volume of clients.
Credico has historically demonstrated its capabilities in promoting businesses at scale and has done so with the skillset to implement. Once your market research has been conducted, Credico provides a quick route to market and scalable locations adapted to clients.
Have you thought of working with an agency to increase your sales? Get in touch.