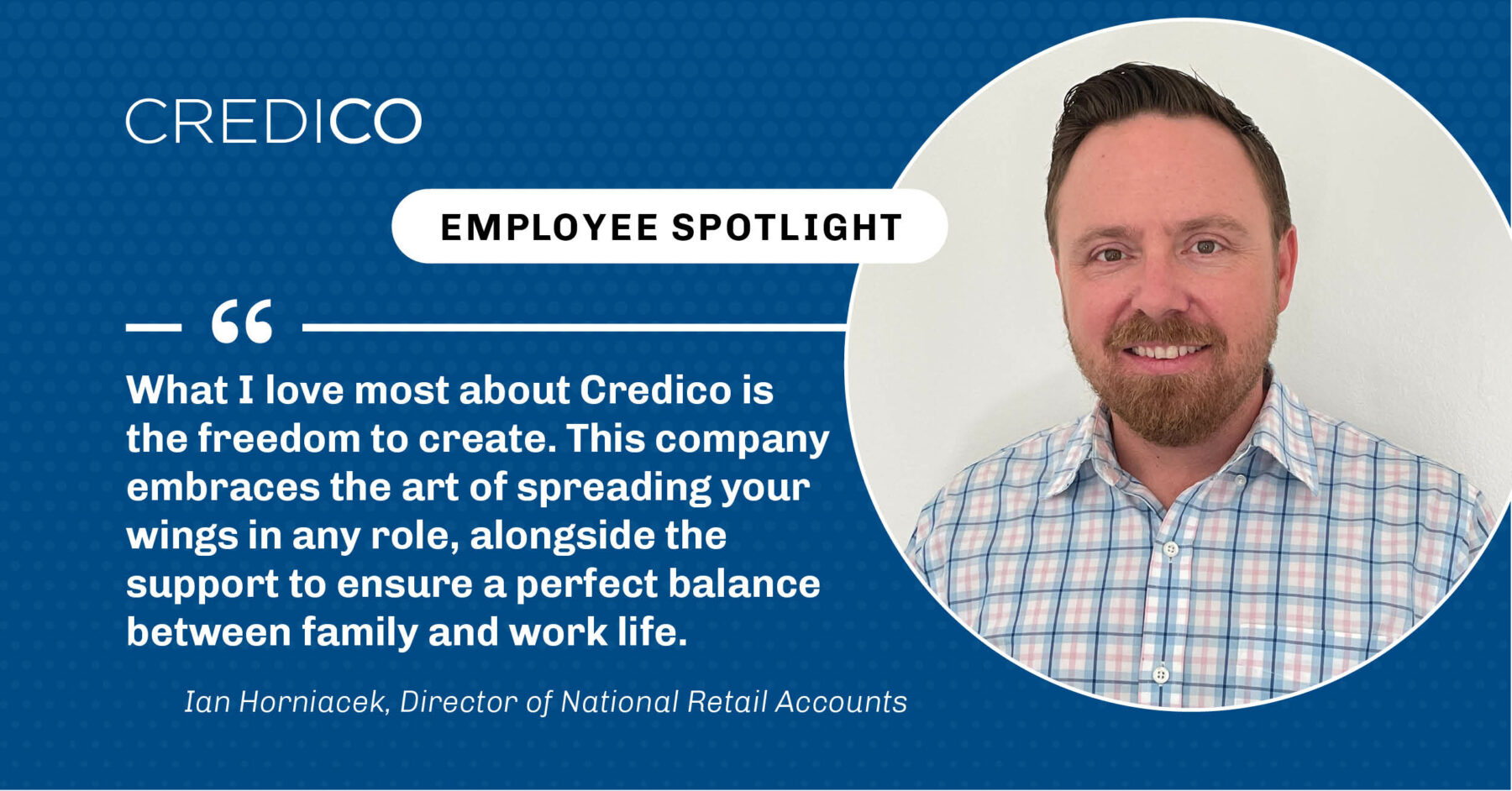 Credico is a well-known global outsourced sales company. With offices in Canada, the United States, United Kingdom, and South Africa, Credico shares the success of this great organization with our team. We are fortunate to be comprised of an impressive, dedicated, capable team of deeply committed, skilled, and inspiring people who choose to lend their talents to our purpose every day. Like most Employee Spotlight campaigns, the goal is to highlight a team member for who they are and what they do. However, our goal is a little different; we'd like to share the global stage with people who call Credico their work home.
Without further ado, we'd like to introduce to you this week's featured employee – Ian Horniacek, our Director of National Retail Accounts. Ian spends most of his free time with his lovely family (see pics below), golfing, or working on cars. If we weren't already coworkers, we would want to be friends.
What do you do at our company?
I am the Director of National Retail Accounts.
What brought you to want to work at Credico?
The number one reason I came to work with Credico was because of what I experienced in working as a client partner with the organization. I had the opportunity to support Credico offices on the D2D platform of the residential Verizon FiOS campaign as a product and sales trainer. This is where I met the first Credico national account manager by the name of Brett Heyes. In the two years I worked to support Credico offices, I had the chance to see a NAM's function. I was completely bought in on the role and Credico as a company, and Brett as a leader and mentor. After building a relationship with Brett over that time, he reached out to offer me a position I was 100% on board with! To this day, it was the best move I have made in my career.
How long have you worked at Credico?
I have worked with Credico for six years and half years now.
What has been your favorite project so far?
My favorite project thus far has been scaling the Walmart project and placing together tactics on how to stand out amongst other vendors to solidify partnerships across the country and coaching my amazing team of Regional Account Managers (RAMs) to do the same.
Can you take us through a day in the life for you at Credico?
The days are challenging and never the same! That is the best part for me – it always starts with checking in with the awesome account managers, national consultants, and office owners in the early hours. Then, depending on the day of the week, it usually involves me making an office visit with one of the ISOs we support on the retail campaigns. After office visits, I will support my team with any guidance or assist in gaps that need to be filled and support client relationships. The national account teams require that you wear many hats, and multitasking attains its true definition in any national account position.
Finally, before the day closes out, I make my rounds in the store's visits, strengthening my relationships with management and providing feedback to the ISO's about how the performance is going for the store events.
What do you like most about working at Credico?
What I love most about Credico is the freedom to create. This company embraces the art of spreading your wings in any role, alongside the support to ensure a perfect balance between family and work life.
What would you like to ask our leadership?
What I would ask John Z. is, 'Where does he see Credico in the year 2050?'
Can you share the best career or life advice you've received?
The best career advice I have ever received was from my mentor. "Never quit at something worth your time and attention, and know when to ask for help to get there."
How do you spend your time when you're not working?
I spend 80% of my time with family, specifically my wife and children, when I'm not working. I have a 7-year-old boy named Logan and a 5-year-old girl named Sophia.
My wife Luba and I take advantage of every moment we have free with them, and Luba is so good at exposing the entire family to new experiences and adventures.
The other 20% of my time is spent working on cars, my passion, and mastering home projects. One of the most relaxing activities is playing golf, my father first brought me out to a course at eight years old, and I have been hooked ever since!
If you could have dinner with anyone (and we mean anyone), who would it be and why?
If I could have dinner with anyone, it would be my wife, Luba. If she weren't free, I'd want to have dinner with Tiger Woods. He has positively influenced golf for the last 20 years and made the game excel to a higher – a more competitive level.