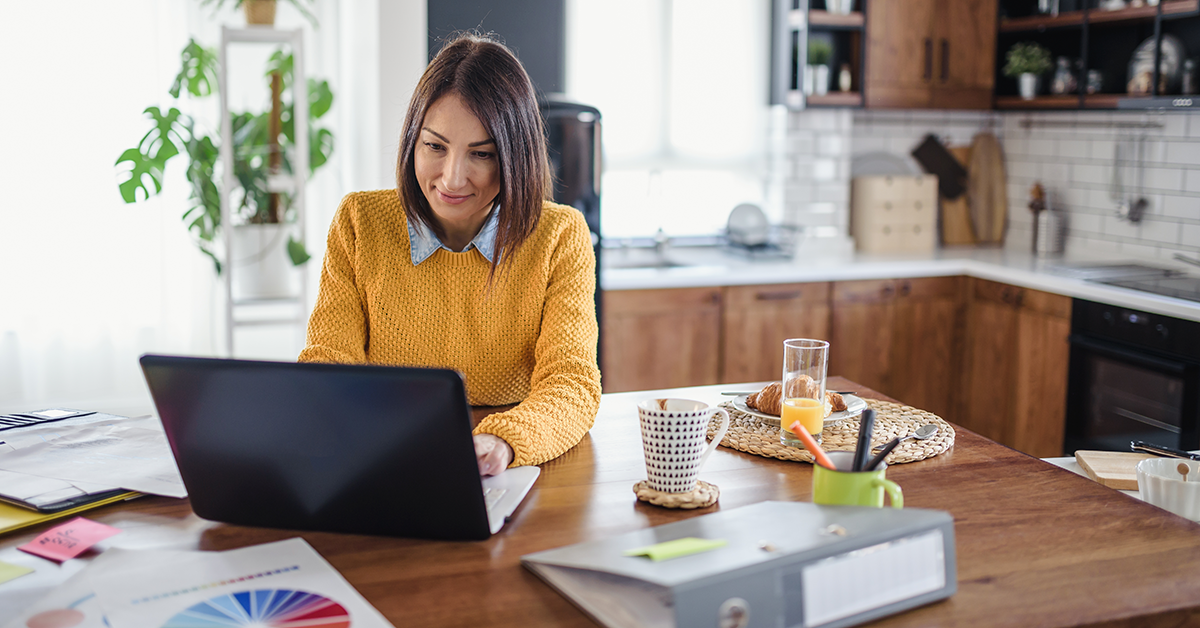 Yes! The last Thursday in June is National Work from Home Day in the United States. This year, the day that celebrates the opportunity to work from home falls on June 30th. However, it's more than enjoying a day out of the office; it's also a day to recognize all the technological advances that make working from home possible.
For many, the thought of working from the comfort of their home was a dream. However, because of the COVID-19 pandemic, a Pew Research study shows that 57% of U.S. workers say they seldom or did not work from home at all before the pandemic. Yet, two years later, remote work is a reality for approximately six-in-ten U.S. workers.
Now that the U.S. is moving "out of the pandemic phase," the workforce has spoken – remote work is here to stay. The Owl Labs State of Remote Work 2021 study suggests that people who work from home are happier and are more likely to remain in their roles longer because they are less stressed, more productive, and have a better work-life balance.
Upwork's 2021 Future Workforce Report predicts that 40.7 million U.S. employees will be 100% remote by 2025. Since only 5% of U.S. employees worked from home before the pandemic, here are five tips to help you enjoy, improve, and celebrate how you work from home every day.
1. Create a set log in and log off time
Working from home offers a lot of flexibility. If you don't have to log on by a specific time, make sure to have a time in mind when you'd like to start your work day and when you'd like to end your work day. While working from home saves you time on your commute, ensure you can enjoy that extra time for yourself and your family.
2. Don't forget to take a break
When you get into a good rhythm with work, it's easy to lose track of time. That's why breaks are essential, as they are great for productivity and the body. So, if you've got a four-legged colleague, take your pup for a walk. Or, have your lunch outside, if the weather permits. Take a pause. If you can, make it worthwhile.
3. Connect with colleagues
One drawback to remote work is the social aspect. For example, there are no watercoolers or coffee machines where you can catch up with your colleagues. However, there are ways to connect virtually with your colleagues. Consider a virtual happy hour, schedule a quarterly or annual office meet-up, or stay connected with frequent correspondence by email or messenger.
4. Spruce up your workspace
If you find yourself in a rut, think about rearranging the furniture in your home office or give it a complete overhaul with a new look. New paintings, a fresh coat of paint, or new art could make your office space new, fun, and enjoyable to work in. If you need a completely new scene, consider working at your local coffee shop or WiFi bar. A change in your environment could be the boost you needed.
5. Consider dressing up
One of the significant perks of remote work is not having to get dressed. You can wear whatever you like when you work from home and on the days you don't have a virtual meeting. Shorts, pajamas, or your most comfortable loungewear – who's gonna know? Still, consider dressing up to work anyway. That way, you're more than likely ready to meet up with friends after work, you feel more empowered and professional, and when you're dressed in "real clothes," you're more inclined to want to get into something comfier afterward, which means you have an incentive to get your work done faster.
However you decide to commemorate National Work from Home Day, don't forget to thank the inventors of the machinery, technology, and equipment that make it possible for your office to be anywhere in the world you want it to be.