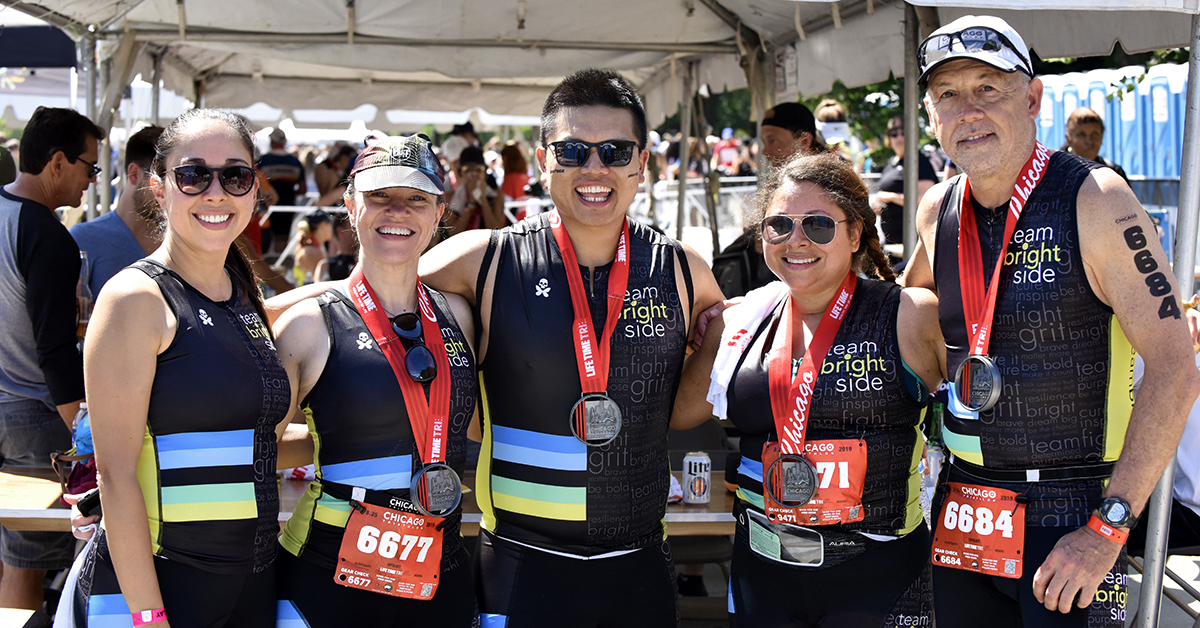 The future looks bright for Chicagoans as the city begins to re-emerge from its quarantine hiatus. With so much downtime on everyone's hands over the last 15 months, the excitement of summer's arrival, festivals returning, and a sense of normalcy making a comeback, life post-pandemic isolation is worth celebrating — carefully, of course.
While the city is reopening according to a healthy mix of CDC considerations, Credico welcomes its return to the growing West Loop business district. Headquartered in Chicago, Credico reopened its doors to its local team to resume work alongside their fellow associates, many of whom are current and past participants in the Chicago Triathlon with Team Bright Side.
Since 2019, a group of Credico team members has been preparing, training, and raising money for pediatric cancer research. In its inaugural year, the group raised nearly $16,000 for Team Bright Side.
"Our team from Credico has a wide range of experience, from first-time tri-ers to Ironman competitors," said Christine Aceron, Credico's Director of Business Intelligence who is returning for her second year on the team. "We all train for months in preparation for the big day, an event we are so honored to participate in."
Team Bright Side is one of several nonprofit organizations Credico proudly supports. Its story has a happy ending but starts with a heartbreaking diagnosis. Tracey Scheppach, team founder and dedicated mother, formed Team Bright Side after her son Ryan was diagnosed with Acute Lymphoblastic Leukemia. In spite of feelings of helplessness and despair, she was inspired to create a small charity team for the 2013 Chicago Triathlon, saying, "If he can do something hard, I can do something hard."
All of the money the team raised with the Chicago Triathlon goes toward funding groundbreaking pediatric cancer research. The research supported by Team Bright Side includes immunotherapy, such as the first-ever FDA approved treatment using a patient's own genetically modified cells to attack their cancer. In 2020, the team's fundraising also supported a new international collaboration to pool research that will allow researchers worldwide to dig into a greater volume of data, driving discovery and advancing treatment.
Ryan is now a teenager and survivor – and a triathlete himself. Team Bright Side is named for his resilience, because even during the darkest days of his prognosis and the roughest treatments he endured, Ryan always found the bright side of his situation.
Since its first triathlon nine years ago, Team Bright Side has trained more than 570 athletes to compete in the endurance multi-sport race with a 100% completion rate. You can spot their distinctive striped kits crossing the finish line at an ever-expanding list of events including half and full Ironman races around the country, the NYC Triathlon, and the Kids Triathlon held the day before their signature event in Chicago.
Taking place August 28-29, 2021, the Chicago Triathlon welcomes triathletes back to the shores of Lake Michigan to participate in one of the largest triathlons in the world. Registration for the highly anticipated weekend race is now open. Credico is excited to continue its triathlon tradition in hopes of ending pediatric blood cancer and saving children's lives.
If you are interested in joining Team Bright Side, click here.
Or you can show your support through monetary donations here.