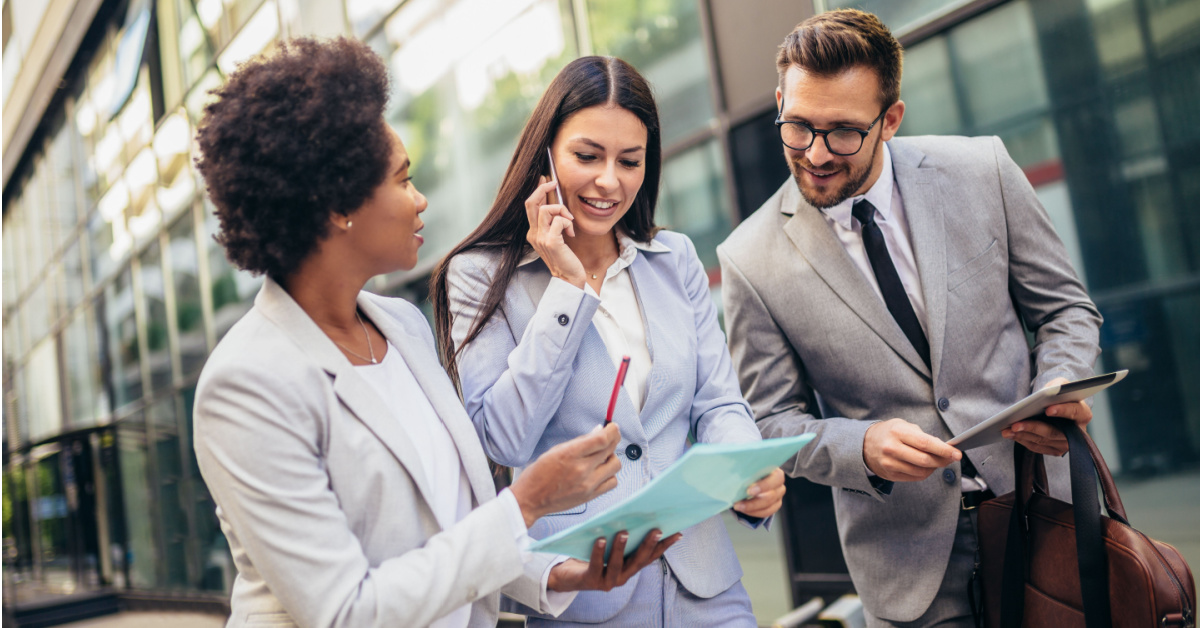 When a customer is ready to purchase your product or service, they take the time out of their schedule to drive to your store in anticipation of making a purchase and returning home with it. When they arrive, they want to meet with someone who can make the sales process easy and enjoyable by answering their questions, giving them space if they should need it, and simply being a kind and understanding sales representative instead of someone who is overbearing, rude, inattentive or worse — all the above. Whether the customer prefers to take charge or take a more laid-back approach when making a purchase decision, it's important to connect with them instead of selling to the would-be buyer just to make the sale and meet your established quotas.
When you think of it, each sales transaction, whether in-person or online, is a transaction between people. Regardless of the stage of the customer journey and the technology involved in making a sale happen, human interactions were necessary to complete the sale and enhance the customer's well-being in some way or another. That's why it is so important to connect to the individual, not the sale. Every sales representative's role is to approach every sale as an opportunity to connect, strengthen brand loyalty, and, most of all, make each person you come into contact with better.
At Credico, we prioritize face-to-face sales in our business model for one reason: to connect with our customers. It's part of the omnichannel approach we have mastered because it provides a valuable opportunity to interact with our customers. We aim to improve their day and lives with every product or service we promote and sell, especially in today's digitally co-dependent world.
More than half of top sales professionals dedicate their time to building strong relationships with their clients. According to a Salesforce report, 51% of successful sales representatives prioritize building strong connections with their clients as part of their sales strategy. However, connecting with new customers can be a challenge for businesses and their sales teams. While connecting with established or repeat buyers may be easier, that's not always the case for every transaction or sales rep. If you're looking to improve your sales approach, here are five effective and effortless ways to connect with your customers.
#1. Be Yourself
Being true to yourself is always the best option. When you bring your authentic self to work, you are genuine and honest with your customers, who are also people like you. While being yourself can be challenging for some, especially since 46% of sales professionals did not initially plan to pursue a career in sales. Trying to be someone else may be appealing, but not being yourself could ruin your connection with your customer. Why? Because customers value honesty and transparency more than anything else. Remember, no one can be YOU, and that's what makes you unique and valuable to your customers.
#2. Be an Active Listener
Listening is important, but being an active listener is a well-defined skill and sales strategy when attempting to connect with customers. According to a LinkedIn Buyer First: A new era in selling report, 46% of customers say "active listening" is the most important skill a sales professional should possess. That's because active listening shows that you care, which leads to connection. Active listening can boost sales for sales professionals by 8%.
#3. Focus on Face-to-Face Engagement
"Dress for success" may sound like a cliché, but it's true. The best way to gain credibility and establish trust with your customers is to dress as the professional you are or aspire to be. When you're in sales, especially in-person sales when product demonstrations allow you to connect with the customer, your appearance is just as significant as your knowledge and expertise.
Face-to-face sales also allows customers to "try before you buy," which can make a huge difference regardless of whether your product is snacks, cell phones, or software. According to Mood Media's State of Brick & Mortar study, the opportunity for customers to physically test and try out products or services is the most significant factor that motivates them to make purchases while shopping in-store, with 56 percent of respondents reporting this as a key driver. You can also address concerns in the moment, furthering trust and building your sales.
#4. Connect Online
Did you know using social media can give sales reps a competitive advantage when connecting with customers? Studies show that 78% of social sellers perform better than those who don't use social media. Email is another great way to continue the conversation with your customers. Connecting with customers is so powerful that 80% of potential customers prefer receiving emails over other forms of communication.
By connecting online as well as in person, sales professionals can continue the conversation to ensure the customer, whether prospective or a previous buyer, remains available and top of mind should they have additional questions. Social media is a great way to connect with customers.
#5. Know Your Product
Becoming a top sales professional means knowing your product inside and out. Customers rely on sales professionals to have extensive knowledge about the products they are interested in buying. This helps them make informed decisions when making a purchase. That's why sales reps must be a student of their industry.
Considering companies in the United States invest $70 billion annually on training their sales teams for 80% of that information to be forgotten by sales professionals in just three months, the value of knowing your product cannot be overstated. Your customers depend on your knowledge, and they deserve it.
Businesses that prioritize connecting with their potential and existing customers demonstrate their belief in the value of their product or service. They also communicate respect for their customers and value in providing an exceptional customer experience in every interaction with every customer, regardless of whether a purchase was made. When businesses establish a connection with their customers, the byproduct of that connection is the sale; when businesses connect with their customers, their brand thrives.