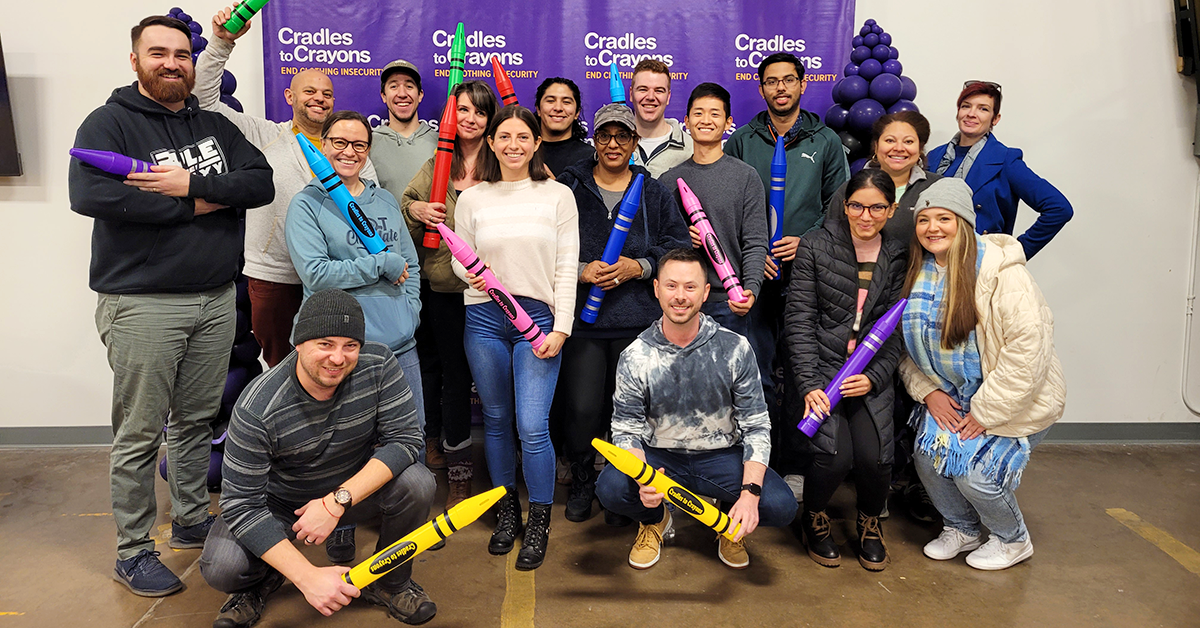 The Community Service Committee at Credico (USA) LLC recently planned their largest volunteer event to date at the Cradles to Crayons Giving Factory. The entire Chicago team split into two groups and spent the entire day sorting and matching clothes for children and families that live with clothing insecurity.
Cradles to Crayons (C2C) is a fantastic organization, helping to make it possible for kids to just focus on being kids instead of worrying about the quality of their clothes or other belongings. Their mission is to provide the essential items children need to feel safe, warm, ready to learn, and valued: clothes that fit, shoes, coats for cold weather, even backpacks full of age-appropriate supplies.
Serving children in Chicago, Boston, New York City, and Philadelphia, Cradles to Crayons provides kids from birth to age 12 with the resources they need to thrive. Their efficient, effective three-step model supplies these items free of charge by engaging and connecting communities.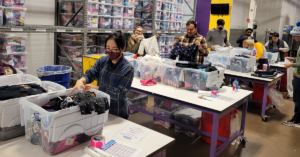 Through grassroots community drives and corporate donations, new and nearly-new children's items are collected. Primarily focusing on clothing, these drives and donations collect warm winter coats, shoes and socks, backpacks for school, and even diapers.
Once the donations are collected at the Giving Factory, volunteers sort the items and prepare customized packages for tens of thousands of local kids. (This is what Credico's team spent the day working on!)  Once the items are sorted into full sets, including multiple matched outfits, they are distributed during seasonal campaigns through C2C's collaborative network of service partners.
And now, 20 years in, Cradles to Crayons has supplied more than three million packages of basic essentials to children who don't have access to these critical resources. Carrying out their mission efficiently and with a high level of accountability and transparency, Cradles to Crayons has been recognized as Four-Star Charity by Charity Navigator every year since 2009.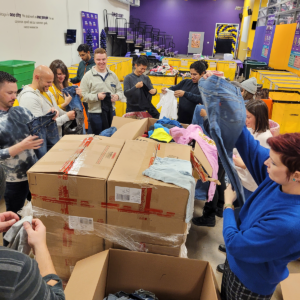 One of the best things about Cradles to Crayons is their ethos of Quality = Dignity. Everything that is provided to the kids is gift-worthy – if we wouldn't give a particular item as a gift, it should not be included in a child's KidPack. Once donated clothing is sorted by age, gender, and size, everything is matched into sets of complete outfits and packaged together for a specific child. The entire KidPack is sorted and selected for a specific child, entirely new and matching, ready to wear to school. And any item that is damaged, soiled, or otherwise doesn't meet the Giving Factory's standards is set aside to be donated elsewhere or recycled.
We had a great time sorting clothes and outfits for Chicago-area kids! The morning crew got to help put together outfits, and the afternoon crew sorted pallets and pallets of donations. It was wonderful to see the generous donations, marvel at everything from adorably-tiny clothes all the way up to big puffy winter coats, and even be a little jealous that we couldn't get some items in adult sizes! From dinosaurs and race cars to iridescent ruffles and flowers, it was readily apparent that there was something to make every child smile in this magical warehouse.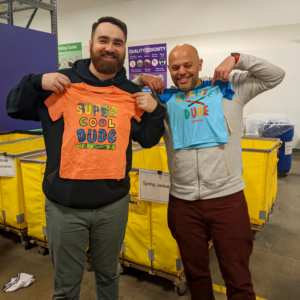 In addition to our company-wide Day of Service, Credico USA also held our first donation drive in our new office space, which gave everyone a chance to participate even if they couldn't join us at the Giving Factory that day. Credico also made a monetary donation to Cradles to Crayons, which helps the organization to fund day-to-day needs, support the operation of their year-round programs, and make specific product purchases to fill inventory gaps. The Credico team was very excited to be able to contribute in a variety of ways that made it accessible for everyone to participate as they were able.
Thank you so much to Allison Barker and the entire crew at C2C for making our day so special! You're an incredible organization to work with and we're so grateful for the opportunity. And another round of thanks to Conor and the Community Service Committee for setting everything up for us! From bagels to buses to lunchtime logistics, there's a ton of work that goes into arranging a company-wide event and we appreciate the time and effort you've put toward making this and all our volunteer events happen. It wouldn't be possible without you!
If you're interested in volunteering at the Giving Factory yourself, Cradles to Crayons is ready to welcome you! From individuals to company groups and even families with children as young as five, they can accommodate you and your schedule and they'd love to have you in Chicago, Boston, or Philadelphia. Can't make it to the Giving Factory? Try out one of their Giving Recipes, a great list of ideas for ways you can host a donation drive.