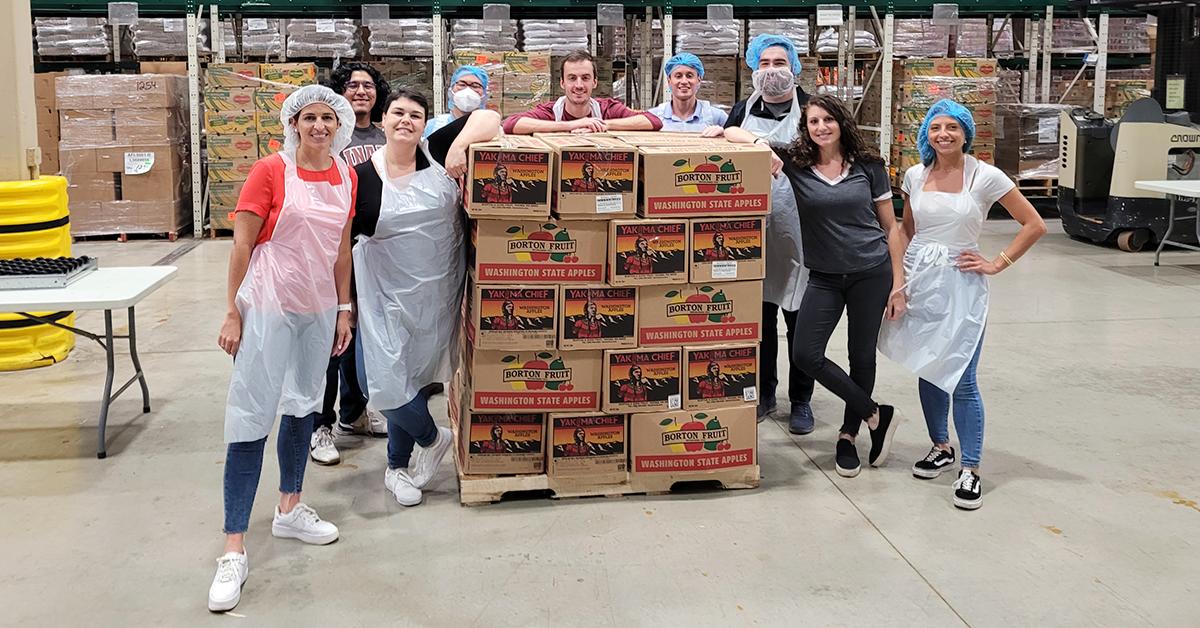 Credico USA's Community Service Committee was back in action last month, setting the stage for a team day of volunteering as part of its ongoing relationship with the Greater Chicago Food Depository. Our group had a great time spending the day working with the fantastic team at their incredible facility, just one small contribution to the efforts of a massive, ongoing push to serve people experiencing food insecurity in and around Chicago.
While most of our Community Service Committee had some previous knowledge of the Greater Chicago Food Depository (GCFD), most of the team had never been inside the GCFD facility before – we were simply stunned by the size of the operation. Rows upon rows of warehouse shelving held pallets full of stored food in readiness for distribution to hundreds of thousands of people across Cook County.
GCFD Executive Director and CEO Kate Maehr noted in a letter that "before the COVID-19 pandemic, the Food Depository was servicing one in seven people in Cook County." That's nearly 740,000 people, and this number is only expected to keep rising. So we were more than ready to pitch in to help!
Our task was repackaging pallets of apples into family-sized portions, cutting net rope, and tying the end to make a bag. When assessing the impact of apple packing, the GCFD uses apple pies as a unit of measure, and our team packaged the equivalent of 263 pies per volunteer! That's 126 cases of apples, or 4,410 pounds, resulting in 3,675 meals facilitated by our efforts in a single afternoon. It's incredible to really see the significance of our efforts by the numbers!
No community effort can be made in isolation, though; our group was working alongside other volunteers with guidance from the tireless Food Depository staff. Conor Brennan, Senior Accountant at Credico (USA) LLC, said, "I had a great time cutting net rope and tying the end to create a bag. We were taking tips from a woman that had volunteered with GCFD for some time. I don't think I would ever be able to cut and tie bags as fast as she could; Brennan (Delaney, Commissions Analyst at Credico USA) came close. Had a fun time trying, though!"
In addition to volunteering for the day, the Chicago office also held a food drive, collecting a large storage bin full of canned vegetables and fruits, peanut butter, and dry goods like pasta and rice. The Community Service Committee used the information on the GCFD website as a guide to encourage the team to donate the most needed items. The Food Depository also offers resources for holding virtual food drives. And because every dollar donated helps fund three meals, the team made an additional $500 monetary donation – a goal for every partner organization we work with. These resources help the Food Depository provide fresh produce, dairy, and protein on top of the dry and canned goods donated in traditional food drives.
Within Credico, support for the Community Service Committee's events has been incredible. Leadership has been supportive from the very start, and the entire team has been enthusiastically involved. Volunteer slots for this event were booked within three days, and food donations started coming in the day after the food drive was announced. We appreciate everyone's dedication to our community!
Credico is proud to be able to make these contributions toward helping those that benefit from the services offered by the GCFD. If you or your organization would like to do the same, check their website for volunteer opportunities! They make it easy to sign up and find a date that works for your group of nearly any size. And after this great first volunteer day, we can confidently say it won't be the last!