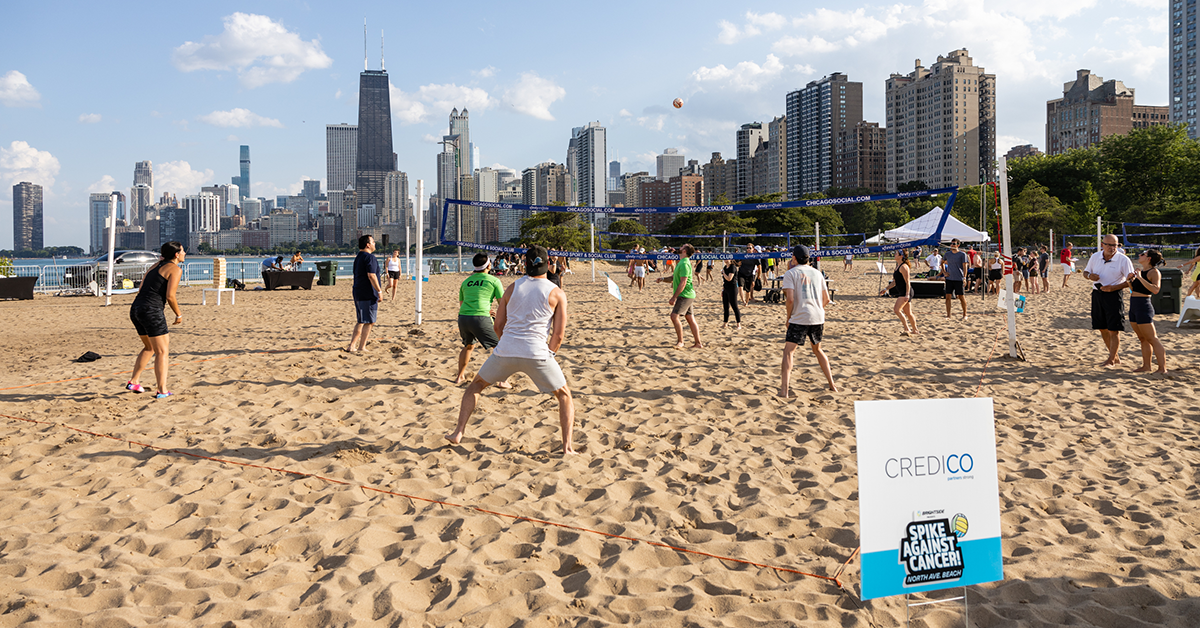 For the fourth year in a row, Credico (USA) LLC is proud to support Team Bright Side, a charity team of dedicated triathletes who swim, bike, run, and fundraise to support cutting-edge pediatric cancer research. Not only are Credico folks fundraising and training with the team for the Chicago Triathlon at the end of August, but they also upgraded their commitment by sponsoring the 2022 Spike Against Cancer, the team's largest annual fundraiser.
This yearly volleyball tournament brings friends, coworkers, families, and philanthropy together for a night of games, food, drinks, and fun for an amazing cause! On July 21, over 400 attendees gathered in the sand and sun, forming volleyball teams arranged into four "pools" set up by the Chicago Sport & Social Club. After all the teams in these pools played each other, the top team from each pool advanced to a single-elimination playoff round. Credico's team not only was able to lend out players, but also made it all the way to the playoffs!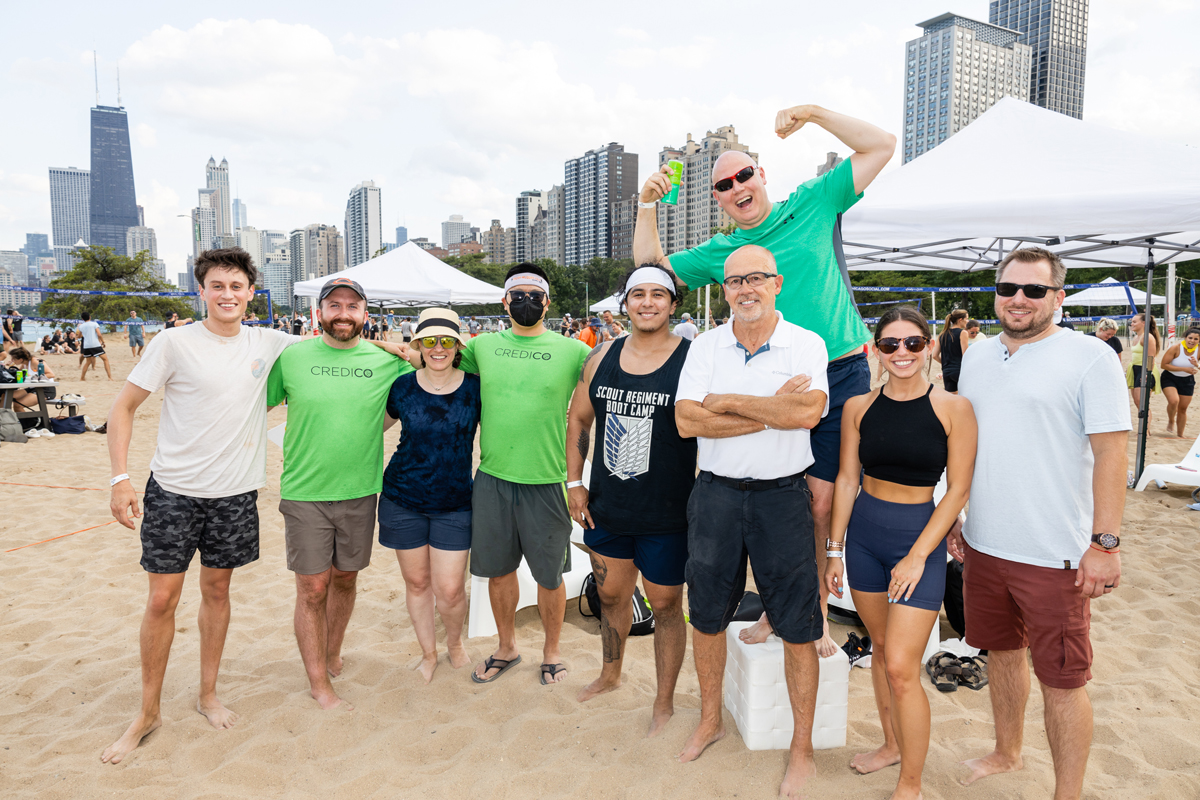 For spectators and players alike, delicious beach food was available all evening and the drinks were flowing while a DJ provided the lakefront soundtrack under the Chicago skyline. New this year was a youth team division for middle and high school students – new generations all coming together for the cause.
Although there were some dramatic storms sighted at a distance over the lake, the beach weather held out perfectly for an excellent day of volleyball in the sand and sun. And best of all, the event raised $125,000 to help fund pediatric cancer research! The team's goal is to raise $500,000 in 2022, and we're beyond excited to help make it happen.
Since 2019, Credico has participated in the Chicago Triathlon as a part of Team Bright Side – all part of its commitment to give back to the community. In its inaugural year, Credico's participants raised nearly $16,000 for Team Bright Side – and there's no sign of stopping. This year's group is small but mighty, and we're ready to keep growing.
"We're beyond proud to continue our support of Team Bright Side, fundraising for an amazing cause founded by an amazing family," said John Zavoyna, Chief Operating Officer of Credico USA. "Tracey's efforts toward funding pediatric cancer research over the past decade have helped not just her own son, but other families across the global community, which is exactly the kind of initiative we can all get behind."
Team Bright Side came to be in 2013 when a mother, Tracey Scheppach, found out that her 7-year-old son Ryan was diagnosed with cancer. The name "Team Bright Side" was chosen because, even in the darkest moments, he could always find the bright side.
"I needed an outlet…an outlet that allowed me to feel like I was making a difference and had some sort of control on a journey where there is so little," she said. "I decided to do something personally challenging for me to honor the struggle that my son was facing. I formed a small team, and we signed up to do the 2013 Chicago Triathlon."
This year is extra-special – it's the team's TENTH year of training, fundraising, and crossing the finish line together! And Ryan, now a cancer survivor, is officially joining the team for his first triathlon as an adult after years of participating in the kids' event.
Over the past nine years, Team Bright Side has successfully trained nearly 1,000 athletes to complete a triathlon – people starting the season at all levels, from couch potatoes to gym buffs and all bodies in between. Even better, the team is on track to reach $2 million raised in total this year! This funds some incredible pediatric cancer research, including immunotherapy, the first-ever FDA approved treatment that uses a patient's own cells to attack cancer, and a worldwide Data Commons that combines the world's genomic and clinical data to find more targeted therapies and save children's lives.
Why do we do it? Because the usual plan for kids like Ryan is three and a half years of chemo-based, brutal treatments. And it works… 80% of the time. And 2/3 of survivors still experience life-threatening side effects.
We need to do better. We can do better. Alongside organizations like Team Bright Side and with your support, we can do better.
Want to support our efforts?
You can donate toward the fundraising goals of Credico's participating athletes Beth, Brett, or John.
You can make your donation to Team Bright Side overall (they've got Guidestar's Bronze Seal of Transparency!). Your contribution helps to fund the research that will eradicate pediatric blood cancers, including the Pediatric Cancer Data Commons at The University of Chicago Medicine Comer Children's Hospital.
And you can come cheer on the team! The charity waves start early on August 28 at Chicago's Monroe Harbor, and you can't miss Team Bright Side's distinctive stripes and bright flags no matter where you look on the course. Make a sign supporting the athletes, cheer real loud, and enjoy the party… we look forward to seeing you on the Bright Side.