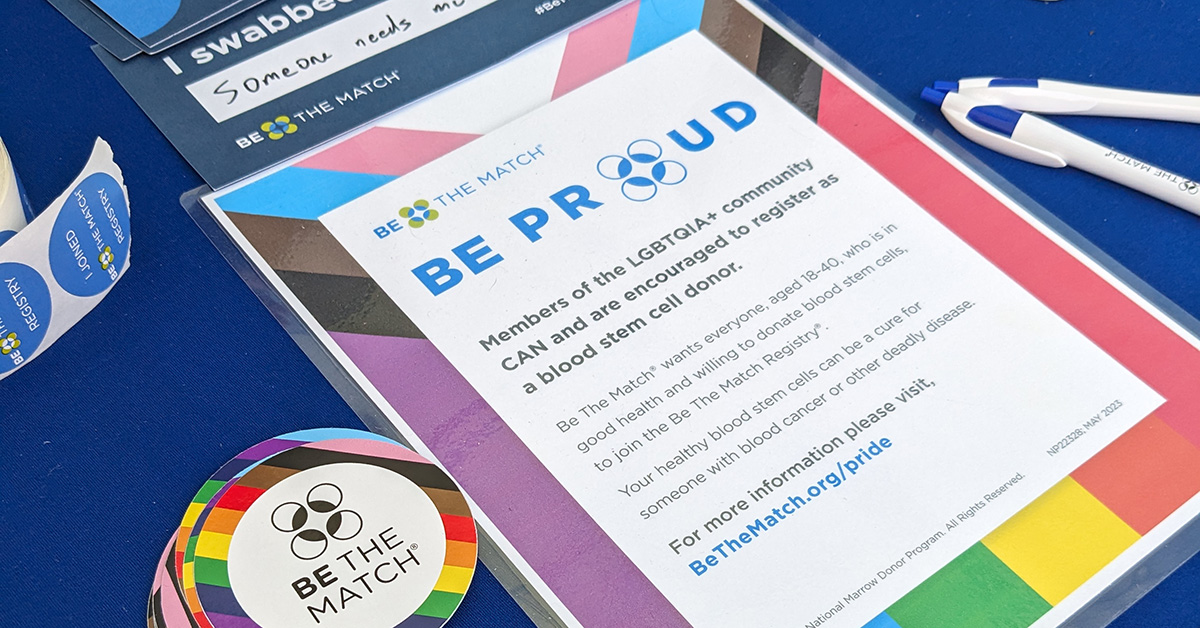 Credico celebrates Pride all year, in more ways than one! Every year, the month of June provides many opportunities to support the LGBTQIA+ community, from recognition and celebration in our office to outreach into the community. And this year, we've multiplied our community involvement by volunteering with Be The Match at Chicago's annual Pride Fest!
Volunteers from Credico (USA) LLC signed up to spend a gorgeous Saturday afternoon at Pride Fest to participate in a donor recruitment drive for Be The Match. After attending a remote info session to learn all about Be The Match and why recruiting a diverse potential donor base is so important, we met up under their blue and green tent to ask happy festival-goers to consider signing up for a chance to save a life!
Be The Match wants everyone, aged 18-40, who is in good health and willing to donate blood stem cells, to join the registry – your healthy blood stem cells could be a cure for someone with blood cancer or disease. And while it is a common misconception that gay men and other members of the LGBTQIA+ community cannot join the donor registry, the reality is the exact opposite! Be The Match does not ask about members' sexual orientation when joining the registry, and, in fact, the organization has submitted comments to the FDA to request that updated questions around the risk of transfusion-transmitted HIV be based on individual risk assessment and be gender-neutral. Prescription hormone therapy does NOT exclude someone from joining the registry, and, if you are called as a match, pronouns and gender identity are respected throughout the process.
Of course, Pride Fest welcomes everyone, and Credico's volunteers chatted with so many happy people that day! With the support of the other volunteers, many of them nursing students from other colleges, we answered questions, shared information, and got hundreds of potential donors signed up for the registry. And that's all it takes! When you sign up, you're registered through age 60, and will be contacted with more information about how to donate if you come up as a match for a patient in need of a transplant. And "overqualified" registrants are encouraged to consider supporting Be The Match in other ways as well, like volunteering, donating, or advocating for others to help build an increasingly diverse registry to help save more lives.
Although our tent was tucked away on a small side street, the glittering crowds still came by to meet Credico's volunteers with Be The Match along with the 150+ other vendors, agencies, and organizations. Every year, this joyful celebration in Chicago's Northalsted neighborhood is jam-packed with over 60,000 people in attendance. A suggested donation at the gate benefits local businesses and the surrounding neighborhood, and talented acts perform on multiple stages throughout the weekend. There's even a Proud Pet Parade – including a pig named Rhoda in a delightful rainbow costume entering the competition for the first time this year.
Our profuse thanks to Emily Harrington at Be The Match for coordinating this incredible opportunity for us, answering all our questions, and being a donor herself! Credico is so pleased to be able to volunteer with organizations like Be The Match who are doing important work to help save lives, and the fun of working with our amazing fellow volunteers at Pride Fest was definitely an added bonus.
To learn more about Be The Match and how you can support their mission, visit https://bethematch.org.