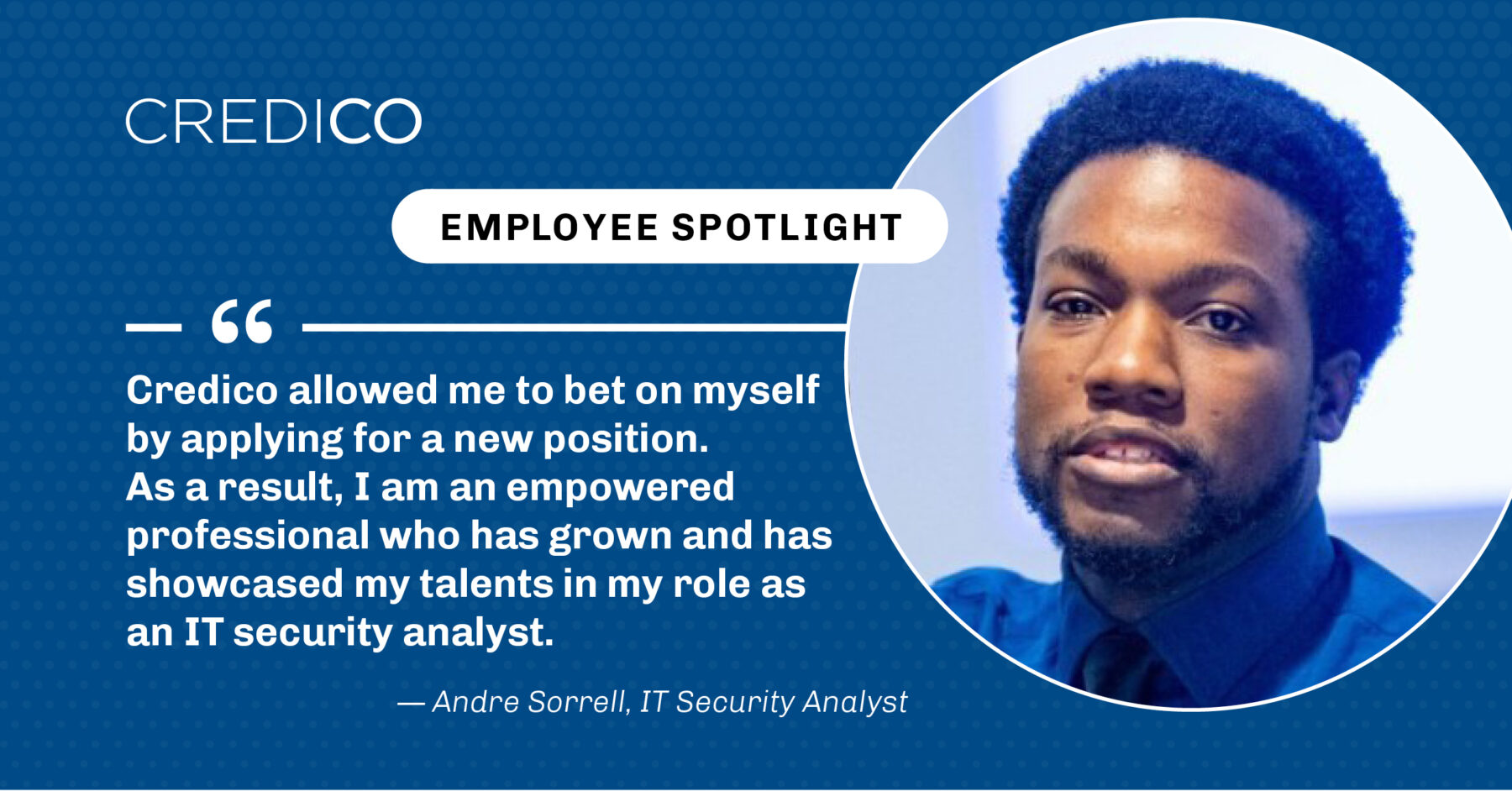 Credico is a well-known global outsourced sales company. With offices in Canada, the United States, United Kingdom, and South Africa, Credico shares the success of this great organization with our team. We are fortunate to be comprised of an impressive, dedicated, capable team of deeply committed, skilled, and inspiring people who choose to lend their talents to our purpose every day. Like most Employee Spotlight campaigns, the goal is to highlight a team member for who they are and what they do. However, our goal is a little different; we'd like to share the global stage with people who call Credico their work home.
We'd like to introduce our next featured employee – Andre Sorrell, IT Security Analyst at Credico (USA) LLC. We discuss finding opportunities for growth, preparing to dive into them, and knowing you've got an amazing support system while you do.
What do you do at our company?
I am the IT Security Analyst. It is a role that I've reprised for around three years now. My job is to keep Credico's proprietary and sensitive information secure and protect our assets from unauthorized access. Over the past few years, you might have seen changes in our internal structure by using multifactor authentication, annual security awareness training, Business Continuity Planning, proper password management tips, workstation patching, etc. Those areas of security are just a few ways in which my role as an IT Security Analyst has affected how our organization can stay safe amongst the many cyber threats out there. 
What brought you to work at Credico?
What ultimately brought me to work at Credico is that Credico is a smaller organization and works at a different pace than where I had originally worked. Before coming to Credico, I worked in the financial sector as a member of the IT Department. For close to 10 years, I'd grown within the company, taking on a series of different IT-laden roles. But, working with so many people tends to develop that small fish in a big pond sort of ideology. Working for an organization such as Credico has allowed me to make an immediate impact from a cultural standpoint. Credico allowed me to bet on myself by applying for a new position. As a result, I am an empowered professional who has grown and has showcased my talents in my role as an IT security analyst. As nerve-wracking as that move may have been, it was a moment in time that allowed me to grow within my profession, a moment that Credico allowed me to make for myself. 
How long have you worked at Credico?
I've been a member of the Credico family since October 2016. 
What has been your favorite project so far?
Wow, that's a tough one. I'd have to say having a hand in kickstarting our anti-phishing campaign has been one of my favorite projects to date. In some ways, it's also been one of the most rewarding projects. Since its inception a few years ago, Credico has become more vigilant when interacting with phishing emails. I get emails every other day regarding whether an email is legit. If you only knew how many times users have emailed me on the validity of the Amazon gift cards that go out to employees from time to time. To say that this program has kept the heads of Credico employees on a swivel is an understatement. Phishing attacks come in different varieties and are some of the most malicious forms of cyber-attacks. Training our staff on what to look out for benefits not only the company but the individual. 
Can you take us through a day in your life at Credico?
Well, let's see. My day consists of checking and analyzing security reports and notifications we have throughout our numerous platforms. Analyzing the reports generally gives us an insight into any form of external or even internal threat that might be looming and may pose a risk to our overall security. MaaS360, our Mobile Device Management system, is a portal that I spend quite a bit of time in as it generally secures all the tablets our ISOs purchase to conduct sales. From creating and managing a tablet security group to administering security updates, MaaS360 is one of our most critical platforms. It requires use by not only myself but my team as well. Resolving security-based inquiries is something I do daily, as the questions are not always business based when it comes to security but from a personal level as well. For example, I may work on a security questionnaire for a specific vendor throughout the week. Depending on the makeup of the questionnaire, that can take anywhere from a day or so to complete depending on the questions asked. Other daily tasks include managing and upholding policies, ensuring that our systems are up to date from a patching perspective, and working with my team on utilizing new security controls that may be beneficial to the company. 
What do you like most about working at Credico?
One of the main things I enjoy about working at Credico is that its size organically gives off the vibes reminiscent of a close-knit family. Depending on your family structure, that may be good or bad, but I, for one, tend to look at it in a more positive manner. During our stint of working from home because of the pandemic, the positive aspects of the family structure were on full display when members of the team would send invites throughout the company to see who was interested in game nights, book clubs, or even for a designated happy hour. I know I can say that from a departmental standpoint, I enjoy working with my team. I know this may seem like a shameless plug, but we are a group of hardworking individuals who share quite a bit in common inside and outside of Credico. That same team chemistry got me through some of the tragic events I've faced over the past few years. Credico, in general, has been there for me. The way that Credico has been there for me after the loss of my parents reminds me of a close-knit family. For that reason alone, I will forever be grateful. 
What would you like to ask our CEO or leadership?
This may seem like a question you'd hear in an interview, but, because of the changing landscape in the corporate world, especially after what we've endured because of the pandemic, I'd ask leadership where they see the company within the next five years.  
A lot has changed in just the last year alone. You look at concepts such as corporate flexibility, where the stigma of working from home has changed forever, and work-ready homes are becoming more common. Will there be an uptick in e-learning due to the change in social interactions because of the pandemic? Will some of the organizational changes made during the pandemic, such as working with ISOs to administer a call center of sorts, be a mainstay, therefore creating growth within the company? It will be interesting to see how what we've been through in the last year and a half will ultimately affect the direction of Credico within the next five years. 
Can you share the best career or life advice you've received?
I'd say the best life advice that I've received would be that you can't be too prepared for what's to come. It might sound cliché, but sometimes, you have to jump into the deep end to see how well you can swim. Some of my best moments in life, whether personal or professional, have been when my back was against the wall. During those times, you gain characteristics you probably didn't know you had. As a person who generally worries about everything, taking certain challenges without second-guessing every aspect of it is tough and has been challenging for me for quite some time. But, taking the time to go over the pros and cons of said challenge and aligning yourself with a good support system has always been very beneficial when making tough decisions. 
How do you spend your time when you're not working?
When I'm not working, a large portion of my time is spent with my wife and three kids. Let's be honest; when you have a set of five-year-old twins and a 2-year-old, there isn't much you can do outside of spending time with them. My wife and I have been getting the kids involved in numerous activities outside of school, ranging from dance to tennis, etc. Most of that time, I get updates about how my kids either enjoyed what they signed up for or disliked it. My daughter typically goes on long rants about all the drama at an activity. So, I feel most of my time outside work is spent listening to those stories alone. 
All jokes aside, I enjoy spending time outside work and going on trips with family and friends. I'm also a gamer, so gaming plays a big role in how I spend my downtime. Reading is also something that I enjoy doing as well as my newfound hobby of archery, a sport that I picked up a few months ago. 
If you could have dinner with anyone, who would it be and why?
If I could have dinner with anyone, I'd say it would be with my younger self. I remember days when I would spend time just wondering what the future had in store for me. Thoughts of "was I moving in the right direction" or "was I doing enough to make the moves that I generally wanted to make" were on my mind daily. There were times when I felt that maybe the career path I'd chosen just wasn't the right fit for me. Having an opportunity to sit at the table with a younger iteration of myself would allow the chance to sit with someone relatable who legitimately looks like you, understands how you feel, and at the same time, knows what you've been going through. I would reassure my younger self that despite the obstacles you'll face, stay the course because, as we all know, nothing is ever perfect, but the future is bright.