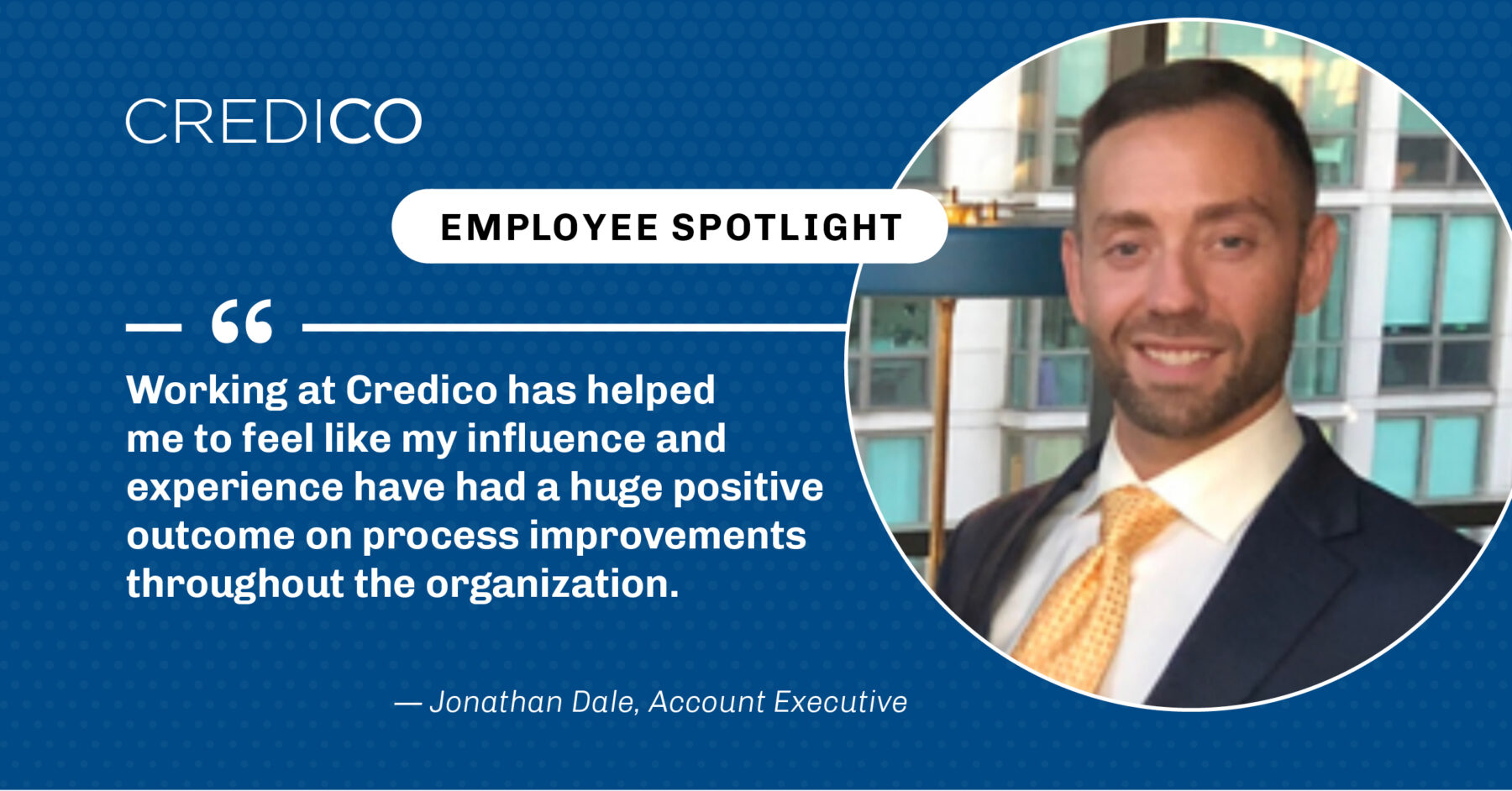 Credico is a well-known global outsourced sales company. With offices in Canada, the United States, United Kingdom, and South Africa, Credico shares the success of this great organization with our team. We are fortunate to be comprised of an impressive, dedicated, capable team of deeply committed, skilled, and inspiring people who choose to lend their talents to our purpose every day. Like most Employee Spotlight campaigns, the goal is to highlight a team member for who they are and what they do. However, our goal is a little different; we'd like to share the global stage with people who call Credico their work home. 
We'd like to introduce this month's featured employee – Jonathan Dale, Account Executive at Credico (USA) LLC. We discuss the dynamic challenges that keep him engaged, his perspective on finding opportunities that may be hidden in setbacks, and the pleasure of seeing the impact of one's efforts. 
How would you describe the Credico experience?
Credico offers many exciting elements that have kept me engaged for over four years. Every week requires a routine with elements of flexibility and ingenuity. Not all weeks are created equal, and for that reason, I've enjoyed my experience. 
What brought you to want to work at Credico?
I was ready for a change of scenery, industry, and company size. For many years, I worked in large organizations in Boston where my impact felt important but small. Working at Credico has helped me to feel like my influence and experience have had a huge positive outcome on process improvements throughout the organization. 
How long have you worked at Credico?
I've been with Credico for four and a half years now. 
What is one significant insight you gained from working for a global company?
I've learned how to better capture an audience's attention through exceptional organization and communication. 
What do you like most about working at Credico?
I enjoy the opportunity to survey, offer, implement, and measure the success of change that hugely impacts the success of others. 
What would you like to ask our CEO or leadership?
The last few years were challenging and innovative all at once. As a result, the job market is very competitive. How do you plan to capture the attention of qualified talent? 
Can you share the best career or life advice you've received?
It's a quote I work to apply to many areas of my life. "Life isn't about waiting for the storm to pass; it's about learning how to dance in the rain." 
How do you spend your time when you're not working?
I enjoy spending time with my friends, playing video games, cycling, and watching shows I missed during Covid. Prior to Covid, I would work out routinely (don't worry, Stella's getting her groove back). 
If you could have dinner with anyone (and we mean anyone), who would it be and why?
I would ask Robin Williams to dinner at a dive bar in a hipster neighborhood (nothing formal). I enjoy laughing and watching others laugh. His comedy has always been great, and I would love the opportunity to laugh with him.