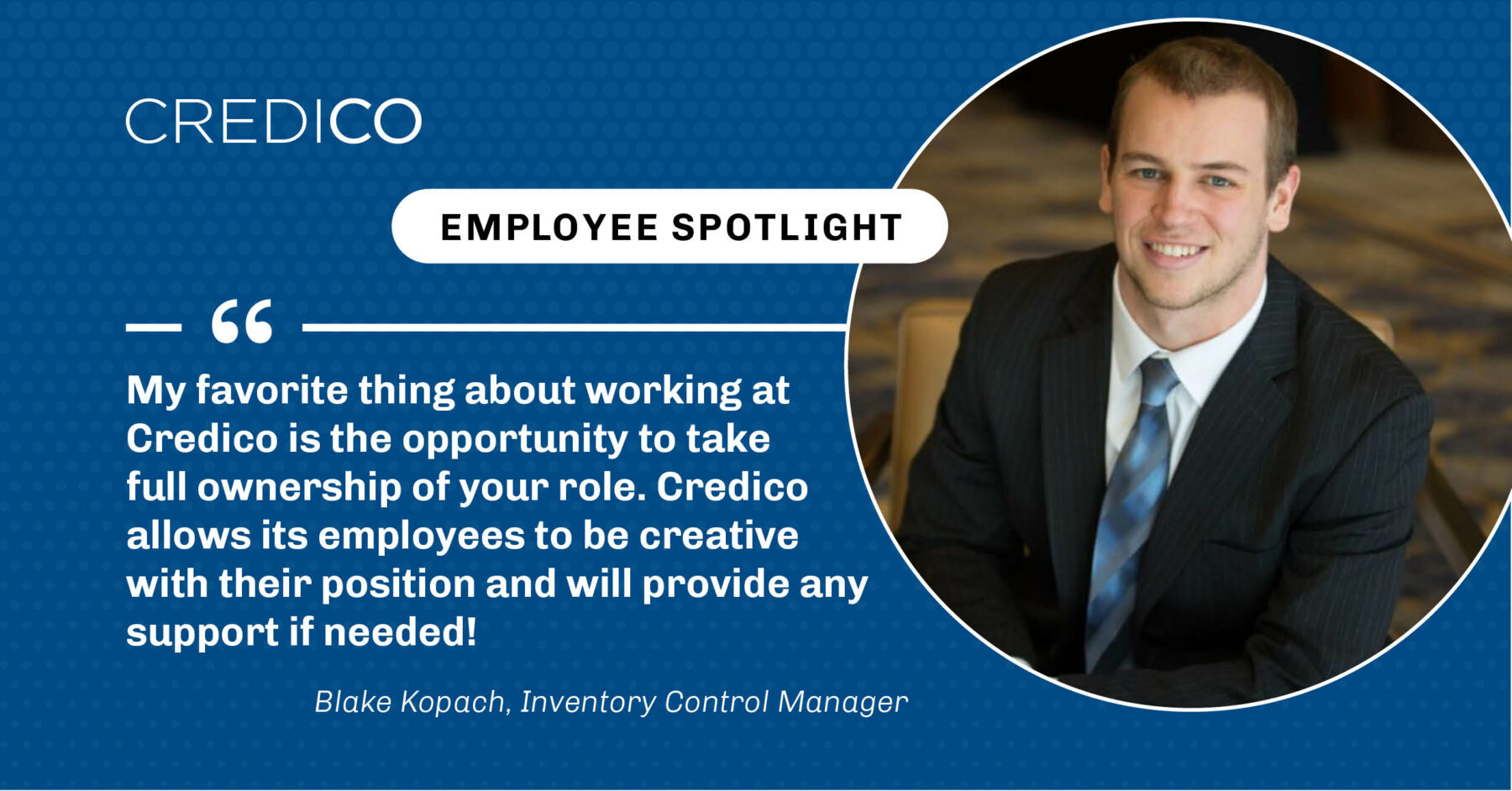 Credico is a well-known global outsourced sales company. With offices in Canada, the United States, United Kingdom, and South Africa, but Credico shares the success of this great organization with our team. We are fortunate to be comprised of an impressive, dedicated, capable team of deeply committed, skilled, and inspiring people who choose to lend their talents to our purpose every day. Like most Employee Spotlight campaigns, the goal is to highlight a team member for who they are and what they do. However, our goal is a little different; we'd like to share the global stage with people who call Credico their work home.
Without further ado, we'd like to introduce to you this week's featured employee – Blake Kopach, Inventory Control Manager at Credico (USA) LLC.
What do you do at our company?
Inventory Control Management
What brought you to want to work at Credico?
The main reason I wanted to work at Credico was to have a tangible effect on the company and the people. There are many large companies nowadays where employees almost feel like a number at times, whereas, at Credico, it was clear right from the start that I would have a defined role that would directly affect the company's success. Additionally, during my interview process, I met with Christine Aceron, several account managers, and IT members, and I instantly felt the excitement and energy. I knew that Credico was the place for me!
How long have you worked at Credico?
I will have worked at Credico for four years now as of this November.
What has been your favorite project so far?
My favorite project thus far has been the implementation of our new tablet purchase order. Previously we had a process that had several steps and often resulted in bottlenecks and delays that would prevent owners from getting tablets and selling as fast as possible. We were able to leverage Formstack to create a purchase order that has become a one-stop-shop for when owners need new tablets so that we can now get them delivered within 24 hours and in the hands of their agents!
Can you take us through a day in the life for you at Credico?
One of my favorite things about Credico is that each day is unique with new challenges! On a day-to-day basis, I am responsible for over 3,000 tablets in the field and their data plans, so I often help owners troubleshoot their devices as they switch campaigns or get ready to sell. Additionally, I provide all new tablets that go out into the field, ensuring that each device has the required applications and bookmarks set. With new campaigns emerging, we often have to work quickly to ensure that all requirements are met, and tablets are provisioned before they are sent out. I also work closely with finance to ensure timely and proper billing for all devices. On any given day, I collaborate with client services, finance, legal, and my IT teammates!
What do you like most about working at Credico?
My favorite thing about working at Credico is the opportunity to take full ownership of your role. Credico allows its employees to be creative with their position and will provide any support if needed!
What would you like to ask our CEO or leadership?
I want to ask John Z what his goals are for campaign expansions in the next three years.
Can you share the best career or life advice you've received?
The best life advice that I have ever received is to improve at least 1% each day in any aspect of your life. Whether in your career, personal life, or with friends and family, making a conscious effort to be at least 1% better in any aspect of your life will ultimately lead to more success and happiness!
How do you spend your time when you're not working?
When I am not working, I spend my time with friends and family. I grew up in the western suburbs of Chicago, so thankfully, I get to see my family and friends often. I also love to travel (warm weather places only) and be outside! I like to stay active by going to the gym or catching some sun on the beach. I grew up playing baseball and football and now enjoy playing in intramural softball leagues. As a diehard Cubs fan, 2016 was the best day of my life and although it might not look great for the Cubs now-I just hope we don't have to wait another 100 years!
If you could have dinner with anyone (and we mean anyone), who would it be and why?
If I could have dinner with anyone, I would pick The Rock (Dwayne Johnson). I was a huge fan of his back in his wrestling days in the late 90s and early 2000s, and now to see how successful he has been in Hollywood and to see how hard he works day in and day out, I think he would be plenty of fun and interesting at a dinner table. The guy also knows how to have a cheat meal! (Check out his Instagram for reference).