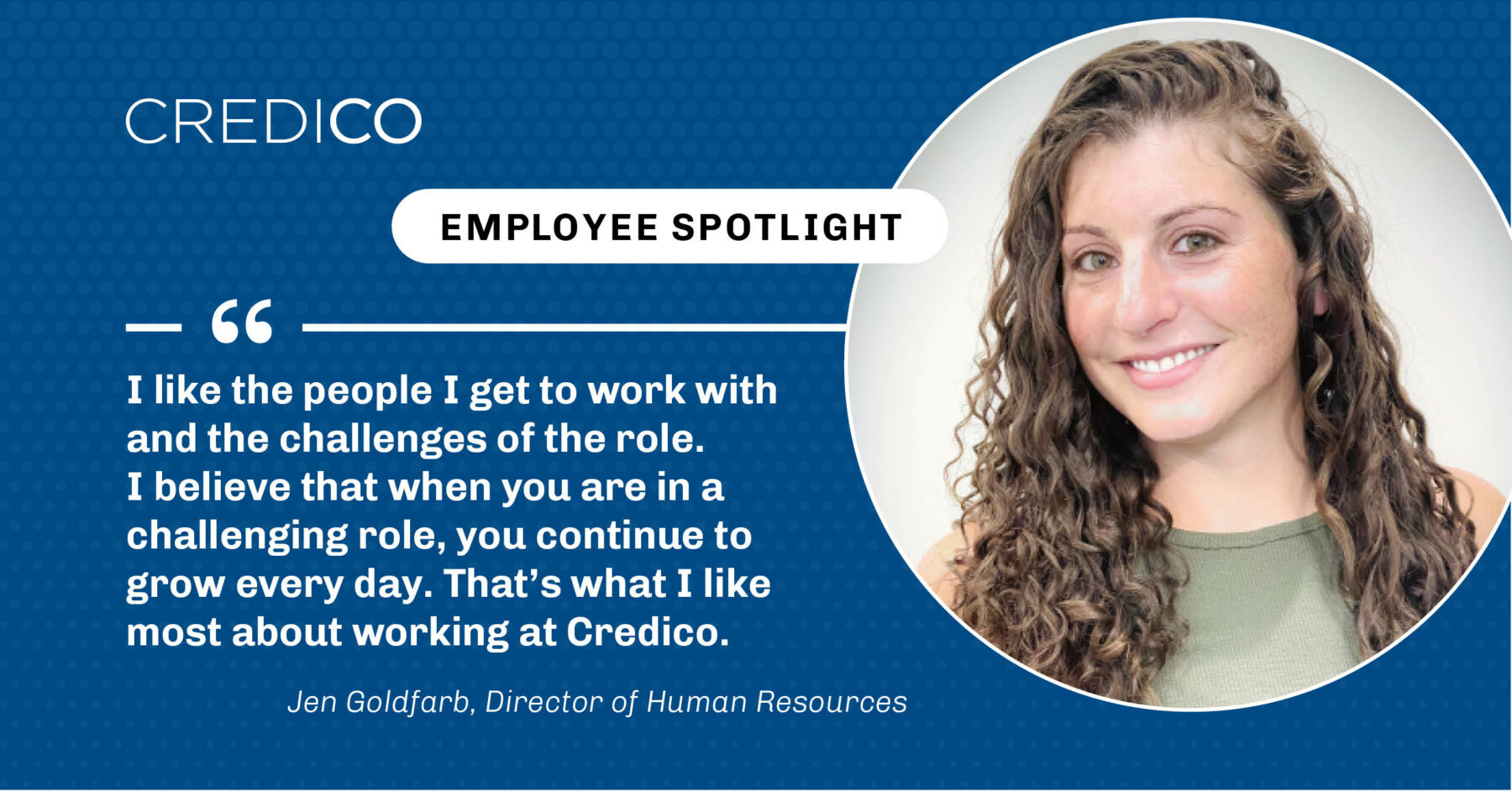 Credico is a well-known global outsourcing sales company. With offices in Canada, the United States, United Kingdom, and South Africa, Credico shares the success of this great organization with our team. We are fortunate to be comprised of an impressive, dedicated, capable team of deeply committed, skilled, and inspiring people who choose to lend their talents to our purpose every day. Like most Employee Spotlight campaigns, the goal is to highlight a team member for who they are and what they do. However, our goal is a little different; we'd like to share the global stage with people who call Credico their work home.
Without further ado, we'd like to introduce to you this week's featured employee – Jen Goldfarb. She's the head of human resources. Jen has been a great asset to the team and it was her idea to initiate the Great Place to Work® certification. Thanks, Jen!
What do you do at our company?
I am the Director of Human Resources – I do all things HR!
What brought you to want to work at Credico?
Pretty easy – Neil and John (our VP of Legal & Compliance and our COO). I came here for them – I wanted to work with them. They made me feel right at home, even during my interviews. They also described to me that what they were looking for in the HR role was someone who was overly compassionate, has empathy, and actually cares about making a difference. That's who I am as a person, so, fundamentally, it was an easy decision.
How long have you worked at Credico? 
It's been less than one year; I'm coming up on about 11 months with the team.
What has been your favorite project so far?
The obvious answer is the Great Place to Work® certification – the entire process from beginning to end has been such a growth experience and learning experience for those of us who were closely involved.
But there's been another project that I got to start that topped Great Place to Work®. I suggested the idea that twice a month, our COO and I take a randomly selected employee to lunch and hear what's going on from their perspective. We listen to ideas they have for improvement, feedback, what's going great and what's not so great.
It's been a wonderful experience to share a meal and get to know those with whom I wouldn't otherwise have had much contact. We've learned a lot of really useful tips and tricks from our folks who are in the day-to-day, and we are excited to continue doing this.
Can you take us through a day in the life for you at Credico? 
Oh jeez! Every day is different. Policy writing, HRIS, benefits, performance-related tasks, recruiting, listening to our workforce, planning events and team-building opportunities, phone screens, coaching, conduct, and the list goes on… and on. 😊
What do you like most about working at Credico?
The people I get to work with and the challenges of the role. I believe that when you are in a challenging role, you continue to grow every day.
What would you like to ask our CEO?
If you could change anything about the company, what would it be?
Can you share the best career or life advice you've received?
There are two: #1. No matter how smart you are, people want to do business with people they like. #2. Great opportunities come along only a couple of times in your life. So do your homework but take advantage of it.
How do you spend your time when you're not working?
I like to go on long runs along Lake Michigan. I'm a workout junkie, so anything active. I also like going out to eat, hanging with my friends. Being in Chicago, I want to be outside during the summer and staying warm indoors in the winter.
If you could have dinner with anyone (and we mean anyone), who would it be and why?
Nerd alert – Most of the folks here know that I have a passion for psychology and human behavior. So, if I could have lunch with anyone right now, I'd choose Dr. Wendy Walsh. She has a radio show and a podcast and is a published author- she is a clinical psychologist and an expert on how we relate to one another and human behavior in general. In addition, she is an expert in evolutionary psychology, and her stuff is fascinating.