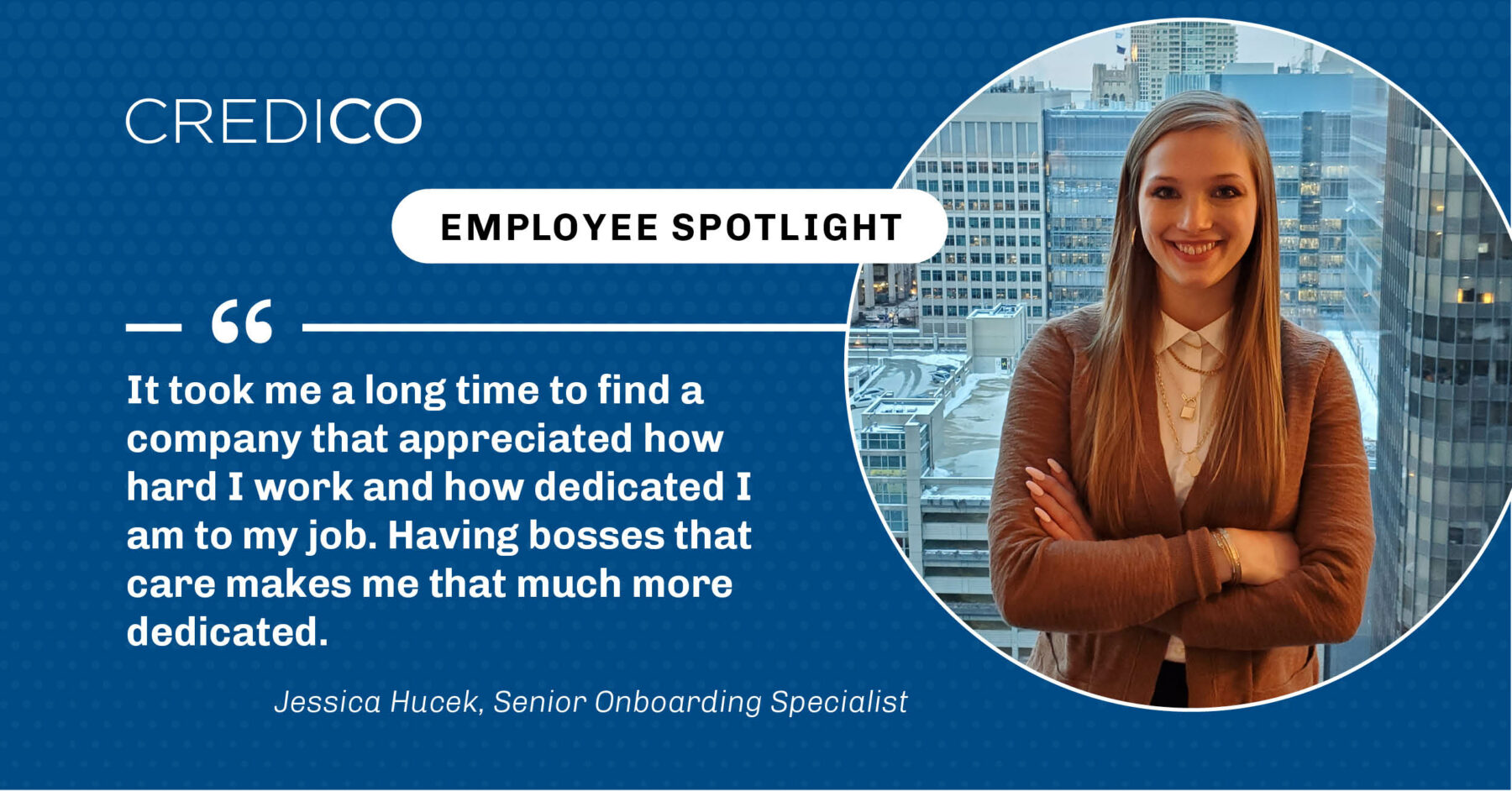 Credico is a well-known global outsourced sales company. With offices in Canada, the United States, United Kingdom, and South Africa, but Credico shares the success of this great organization with our team. We are fortunate to be comprised of an impressive, dedicated, capable team of deeply committed, skilled, and inspiring people who choose to lend their talents to our purpose every day. Like most Employee Spotlight campaigns, the goal is to highlight a team member for who they are and what they do. However, our goal is a little different; we'd like to share the global stage with people who call Credico their work home.
Without further ado, we'd like to introduce to you this week's featured employee – Jessica Hucek. She's a Senior Onboarding Specialist with Credico (USA) LLC. Jessica plans to do a lot of traveling, and we couldn't agree more. When things return to normal, we want to catch flights and feel all the feels both stateside and abroad.
What do you do at our company?
I am the Senior Onboarding Specialist; I oversee our onboarding team and help ensure that all agents and offices are onboarding efficiently and correctly.
What brought you to want to work at Credico?
Jen Goldfarb, Director of Human Resources, reached out to me on LinkedIn, and I loved interviewing with her and the Client Services team, so I took the position, and I am so grateful that I did.
How long have you worked at Credico?
I have been at Credico since January 28th, 2021.
What has been your favorite project so far?
My favorite project so far has been overseeing and mentoring the Onboarding team and teaching them all the processes and procedures for onboarding.
Can you take us through a day in the life for you at Credico?
A typical day for me starts with logging into ARC Web and assigning all of the agents to the onboarding specialists in the queue. Next, I check email, and I make sure each email is answered by a member of the onboarding team or me.  I then go through all of the FreshService dashboard tickets to ensure that all office onboarding tickets have been assigned to my team and are being taken care of. I continuously assign agents and tickets out to my team while answering emails that come through.
I also work on any project that our compliance managers send my way.  I recently completed office onboarding, by campaign, workflows for them and anyone moving forward to review while they onboard offices.
What do you like most about working at Credico?
I love how my bosses, Erica and Neil, care about my growth and career path. I feel fortunate that they both have taken such an interest in making sure I move up and continue to excel at Credico; it took me a long time to find a company that appreciated how hard I work and how dedicated I am to my job and having bosses that care, makes me that much more dedicated.
What would you like to ask our CEO?
I would love to know what piece or pieces of advice he has received in his career that helped shape him into the CEO he is today.
Can you share the best career or life advice you've received?
The best advice I have ever received was to be authentically yourself, no matter what. People will have an opinion regardless of who you are or what you do, so you might as well just be yourself.
How do you spend your time when you're not working? 
When I am not working, I am hanging out with my dog, Oz Paws. He is absolutely the center of my world.
I also enjoy practicing yoga, shopping, and eating out around Chicago with my boyfriend and friends. In addition, I often travel back to Columbus, Ohio, to see my family, and once the world opens a bit more, my boyfriend and I will start traveling more, both in the US and abroad.
If you could have dinner with anyone (and we mean anyone), who would it be and why?
If I could have dinner with anyone, I would have dinner with Legolas from The Lord of The Rings because he was my first ever Hollywood crush, and I still love those movies.