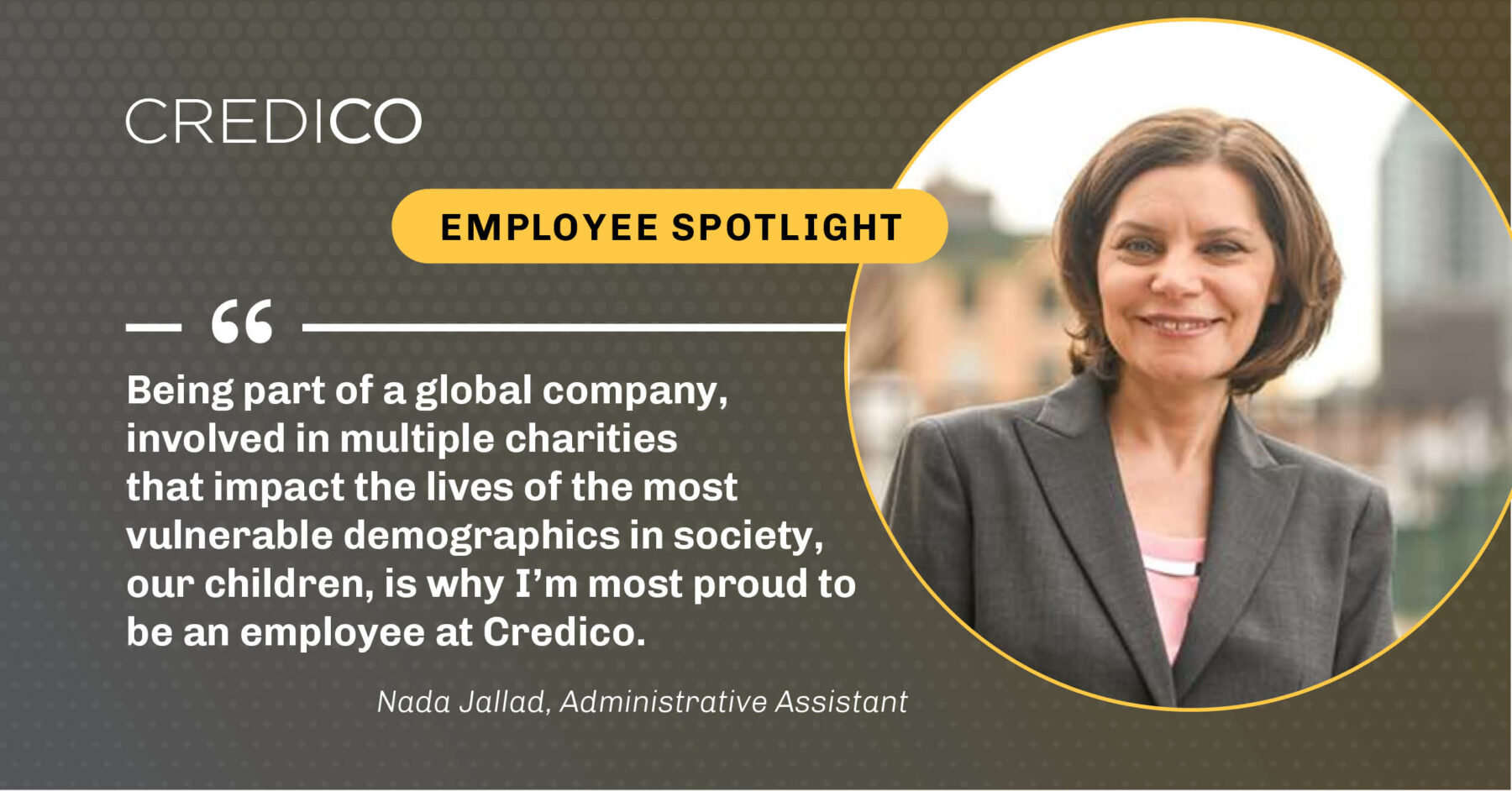 She's a 20-year Credico team member with the second-longest tenure next to Antoine Nohra, Credico's founder. Her name is Nada Jallad, and we celebrate her and her many contributions to our organization in the capacity of Administrative Assistant, historian, and well-known friendly voice and face.
Interviewed on the day the World Trade Center was destroyed during the September 11 attacks, Nada's journey with Credico began when positive energy and sincerity were needed. She was officially hired a few days later after an eight-year stint as an optometrist receptionist in hopes of finding a role that provided work-life balance and an opportunity for growth.
Nada is a Lebanese native, like Credico's founder Antoine. She earned a degree from L'Université Saint-Joseph de Beyrouth (USJ), a French-speaking university in Lebanon. She moved to Canada and serendipitously found her way to Credico.
The Credico family is grateful when talented and dedicated professionals share their expertise with our vision. Likewise, it is gratifying for us to have an employee dedicate their career to our improving what we do. Nada's two-decade-long presence and expertise have strengthened our work, and we celebrate her for being more than a colleague but an excellent example of Credico pride.
Thank you, Nada, for all that you do and for the many Credico lives you've touched.
What do you do at our company?
Currently, I am an administrative assistant. When I started at Credico, I worked as an agent in the quality control department. Later I accepted a position as a receptionist before becoming an administrative assistant.
What brought you to want to work at Credico?
After working eight years for an optometrist office in a shopping center mall, I wanted an office job. A friend referred me, and here I am.
How long have you worked at Credico?
I have been working at Credico since September 19th, 2001.
What has been your favorite project so far?
Being part of onboarding a campaign for the company has been my favorite project since I've worked here. It was a pilot project.
Can you take us through a day in the life for you at Credico?
I start my day with a cup of coffee. Next, I check my e-mails, phone messages, and then the company mail. Then, I start executing all tasks related to my position.
What do you like most about working at Credico?
The atmosphere of the office is very motivating and high energy. The family spirit that we have developed over time, the moments of joy and sadness that we have shared, the moments of madness (positive way- out of the ordinary) that we have had at times; all these facts reinforce the spirit of teamwork: a quality that identifies Credico.
Can you share the best career or life advice you've received?
"Never put off until tomorrow what you can do today. Maybe you will have missed the chance of your life."
How do you spend your time when you're not working?
When I'm not working, I like to read, work out, watch TV, and sometimes try new recipes.
If you could have dinner with anyone (and we mean anyone), who would it be and why?
Mary Wallace "Wally" Funk. She is the 82-year-old astronaut who flew on Jeff Bezos' Blue Origin NS-16 space mission because she is the personification of "age is never an obstacle to fulfill your dreams."