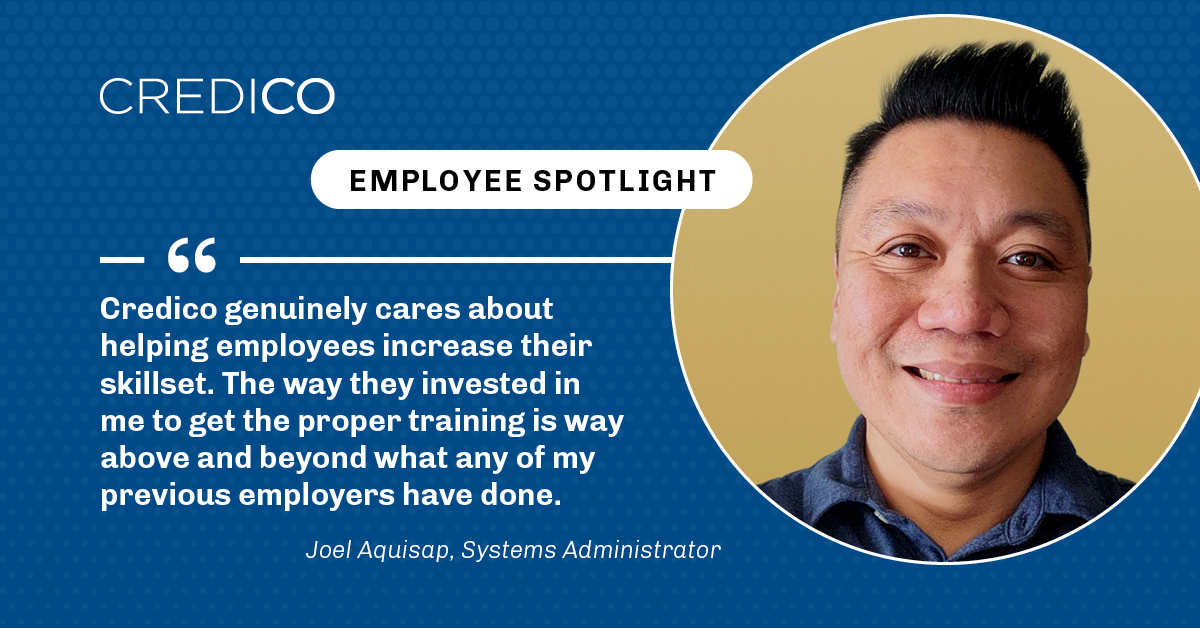 Credico is a well-known global outsourced sales company. With offices in Canada, the United States, United Kingdom, and South Africa, Credico shares the success of this great organization with our team. We are fortunate to be comprised of an impressive, dedicated, capable team of deeply committed, skilled, and inspiring people who choose to lend their talents to our purpose every day. Like most Employee Spotlight campaigns, the goal is to highlight a team member for who they are and what they do. However, our goal is a little different; we'd like to share the global stage with people who call Credico their work home.  
Our next featured employee is Joel Aquisap, Systems Administrator at Credico (USA) LLC. We discuss the perks of being able to really get to know your team, the benefits of a small-but-mighty team, and being inspired by curiosity.
What do you do at our company?
I am the Systems Administrator for Credico.
What brought you to want to work at Credico? 
I used to work at Morgan Stanley as Desktop Support. After many years there, my IT career wasn't really trending up. I wanted to find somewhere smaller to work outside of banking. I figured working for a smaller company in a smaller office, I would be able to move my career forward. It was difficult to get recognized in a huge firm like Morgan Stanley. Working at Credico allowed me to build more personal relationships with the people I was working with, which was a help in advancing my career.
How long have you worked at Credico?
August 2023 will be 7 years.
What has been your favorite project so far?
My current project migrating all our servers over to Microsoft Azure is my favorite so far. It's one where I'm the most directly involved in and where I have more responsibility to run. Credico even sent me out to get trained to manage Microsoft Azure once the project is complete.
Can you take us through your typical day at Credico?
My main day-to-day focus is assisting anyone that is having any technology issues. I also work closely with each department for any back-end needs they have. (i.e., new hire setups for HR, reporting for BI, server and network maintenance for IT, etc.) So there is never a dull moment during a typical day.
What do you like most about working at Credico? 
The best part about working with Credico are my day-to-day interactions with my coworkers. The team that I am on is the best I've ever worked with and has contributed tremendously to my career growth. Additionally, management at Credico genuinely care about helping their employees get the training they need to increase their skillset. I was sent to Florida for a week to get certified for Microsoft Azure Administration so that I can manage our infrastructure once our migration is complete. The way they invested in me to get the proper training is way above and beyond what any of my previous employers have done.
What would you like to ask our CEO or leadership?
What avenues of growth would you like to take Credico in the future?
Can you share the best career or life advice you've received?
The best career advice I received was to cut my teeth in IT working at large companies first. Use their resources to learn as much as I can and then look for a position at a smaller company to be the expert there. Working in the banking industry, IT really is an anonymous tech you call to for any issues you are having. I much prefer working in a smaller office because I get to build personal relationships with the people I am supporting, and they actually know my name instead of being a random tech assigned their ticket.

How do you spend your time when you're not working? 
Outside of work, I'm primarily with my family. My 9-year-old son is very active in sports, and I coach his baseball team; my 4-year-old daughter is just starting out with her activities. My kids' activities take up a lot of my time, which honestly, I love. I make it a primary point in my life to make sure I have time for my kids.
If you could have dinner with anyone (and we mean anyone), who would it be and why?
Hands down, Neil DeGrasse Tyson. I saw him do a panel at Comic-Con in San Diego a few years ago and it was amazing. The way he speaks about space and astrophysics just opens up worlds of curiosity.