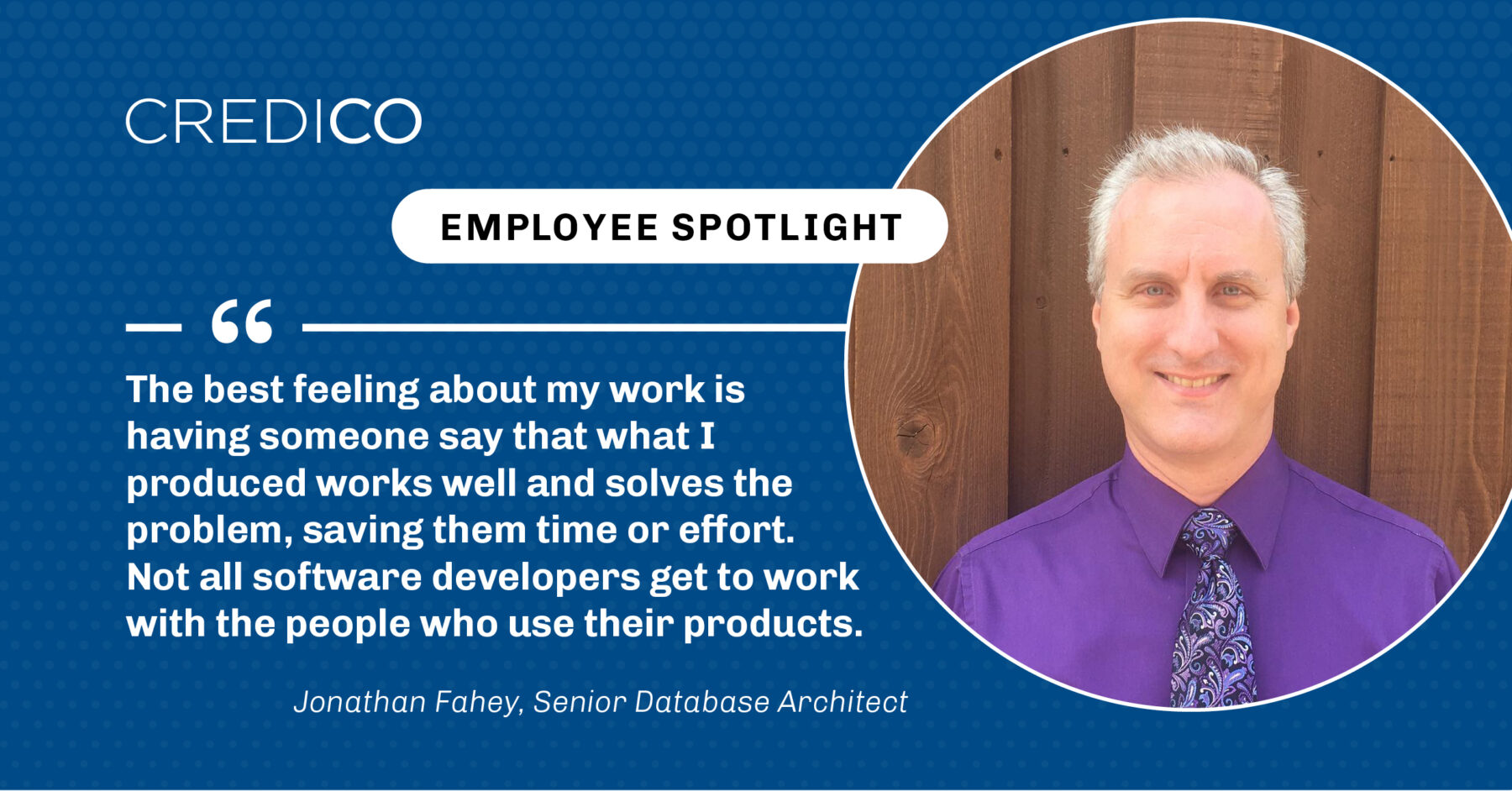 Credico is a well-known global outsourced sales company. With offices in Canada, the United States, United Kingdom, and South Africa, Credico shares the success of this great organization with our team. We are fortunate to be comprised of an impressive, dedicated, capable team of deeply committed, skilled, and inspiring people who choose to lend their talents to our purpose every day. Like most Employee Spotlight campaigns, the goal is to highlight a team member for who they are and what they do. However, our goal is a little different; we'd like to share the global stage with people who call Credico their work home.  
We'd like to introduce this month's featured employee – Jonathan Fahey, Senior Database Architect at Credico (USA) LLC. We discuss doing what you love, pride in seeing the impact of your work, and adventures at home and abroad.  
How would you describe the Credico experience? 
I have thoroughly enjoyed my time at Credico and plan to be here much longer. Sometimes it feels like a rodeo, wrangling ornery data and trying to hold on for eight seconds, but it usually feels like a team sport, working together to accomplish each new goal.
What brought you to want to work at Credico? 
I was working for another of Antoine's companies when I learned about Credico. At that point, all commission calculations were done manually using monthly spreadsheets. So the idea of creating a new system from scratch, and providing a tool to help people get their work done faster, was an exciting prospect.
How long have you worked at Credico?
I started work on Credico systems in 2012, and we had the first apps flowing into the new ARC system on a trial basis at the beginning of 2013. My official start date as a Credico employee is July 1, 2014. Because I came to Credico from another company, I have always been remote from the Chicago headquarters.
What is one significant insight you gained from working in multiple countries?
New places give new perspectives on the world, quite literally. When working in Australia, news from Japan and China loomed much larger than concerns from the US or Europe. We don't often think about how our surroundings shape our views and how different views make sense in their own environments. Something as small as how dates are formatted can lead to miscommunication and misunderstandings. I'm trying to get better at looking at challenges from the perspectives of others before presenting my own solutions.
What do you like most about working at Credico?
The best feeling about my work is having someone say that what I produced works well and solves the problem, saving them time or effort. Not all software developers get to work with the people who use their products. Working at Credico, I get to interact daily with people at all levels of the organization because so many are the "customers" of the software the team and I create and because the company encourages communication across the organization chart. I can see how my code affects people's work and contributes to the company's success.
What would you like to ask our CEO or leadership?
I'd like to know where they see themselves in five years! I was impressed that our leadership pivoted quickly to call centers when COVID interrupted our normal business methods. I would like to know if there are other opportunities we could be preparing to support so that we have the groundwork laid and are ready to follow when they are ready to move.
Can you share the best career or life advice you've received?
It may be somewhat clichéd, but finding what you love and doing that as a job is the best career advice I know. I have had jobs where I didn't enjoy the daily responsibilities; that's no fun. I enjoy coming to work each day because I enjoy my tasks and like the people with whom I do them. My son became interested in one of the trendy careers for his age group. He took classes and quickly learned that he wouldn't like the job. He switched to a different education path for something he does in his spare time, finds the classes easy, and is eager to start work. If work is one-third of your life, make that part something you enjoy doing.
How do you spend your time when you're not working?
My wife and I are working on being empty-nesters, so we enjoy more time in town. We have season tickets to Broadway Dallas to see plays and musicals when they come to town. We support local breweries by visiting their tap rooms and trying their new products – a tough job, but someone has to do it! We have movie themes for the month, such as "Hitchcoctober" (lots of Hitchcock) or "New-and-Improved November" (originals and their remakes). We once watched Season 3 of "24" in 24 hours.
I am also learning more about woodworking and building small projects for our home. I want to learn to crochet, but I'm saving that for when I retire so I can keep my mind sharp by learning new skills.
If you could have dinner with anyone (and we mean anyone), who would it be and why?
I'd like to have dinner with Sir Ernest Shackleton, an adventurer and explorer, from England. I'm sure it would be inspiring to hear him tell how he and his team of 4 survived the 720-mile trip from Elephant Island in the Antarctic to South Georgia Island in a 20-foot lifeboat to get help for the crew of 28 after the loss of his ship, Endurance. He set an incredible example of service and leadership in extreme circumstances, traits I would like to develop. I'd also like to ask for a sip of his 1909 Mackinlay's Rare Old Highland Malt Whisky, still frozen into the ice beneath his Antarctic base, Cape Royds.