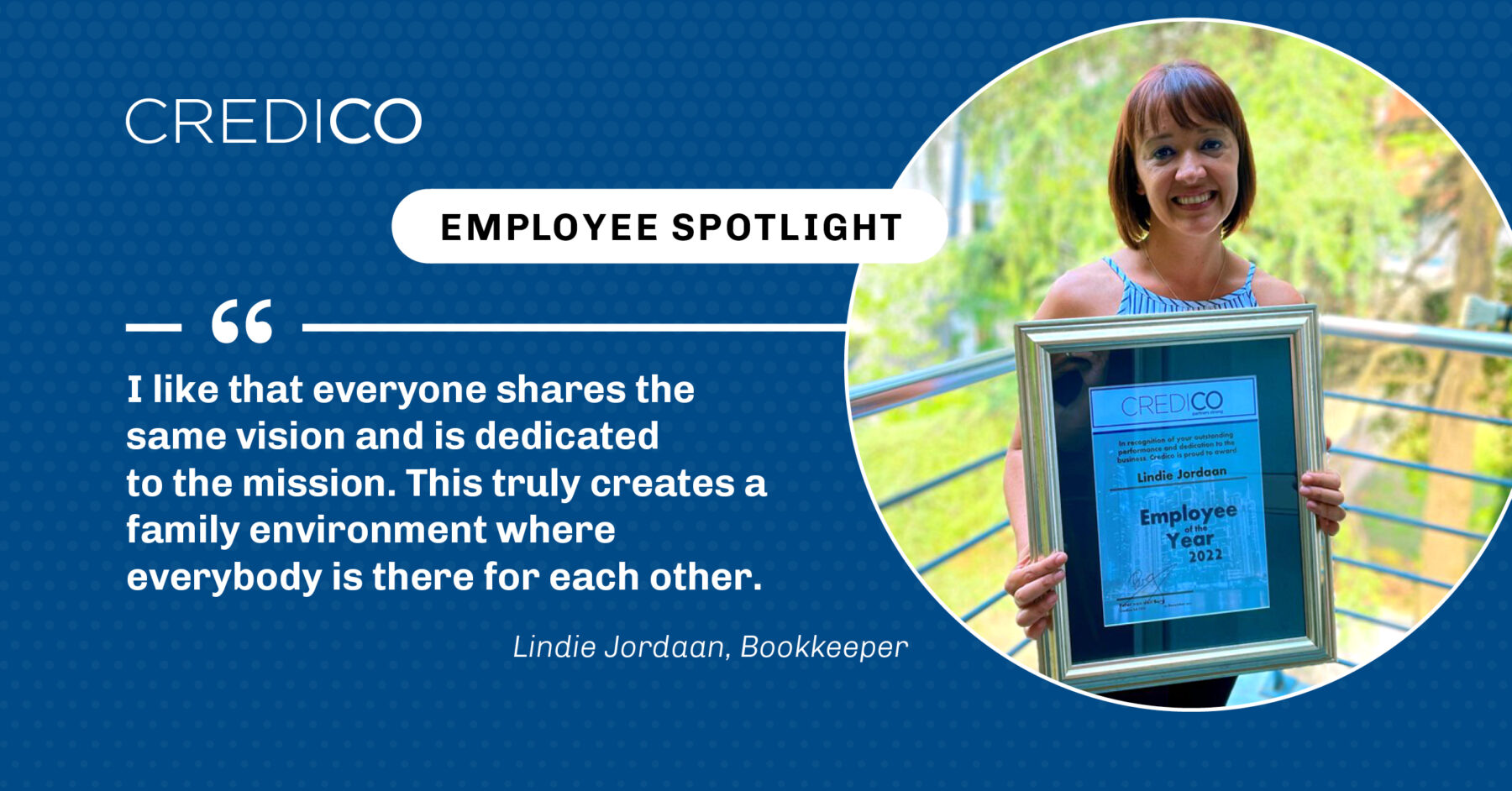 Credico is a well-known global outsourced sales company. With offices in Canada, the United States, the United Kingdom, and South Africa, Credico shares the success of this great organization with our team. We are fortunate to be comprised of an impressive, dedicated, capable team of deeply committed, skilled, and inspiring people who choose to lend their talents to our purpose every day. Like most Employee Spotlight campaigns, the goal is to highlight a team member for who they are and what they do. However, our goal is a little different; we'd like to share the global stage with people who call Credico their work home. 
We'd like to introduce this month's featured employee – Lindie Jordaan, Bookkeeper at Credico Financial Services in South Africa. She has been recognized as Employee of the Year for 2022! We discuss becoming the best version of oneself, the family atmosphere and mentorship inherent in a shared mission, and the best way to jumpstart the day.
What do you do at our company?
I work in the Finance Department at Credico Financial Services in South Africa as a Bookkeeper.
What brought you to want to work at Credico?
I wanted a good platform to start my career and explore my skills. I knew that Credico would help me to grow my knowledge and expertise. I saw this opportunity as a step to bigger and better things.
How long have you worked at Credico?
I have been part of the Credico family for the past nine years.
What has been your favourite project so far?
My most favourite project is a work in progress, me.
Last year I decided to start studying Financial Accounting. There is nothing quite like the rush of pride and relief when you reach your goals or achieve the grades you want. Working towards being the best version of myself is highly motivating and rewarding, plus I want to be a greater asset to Credico and the Finance team.
Can you take us through a day in the life for you at Credico?
My day always starts off with a cup of coffee… or two. No idea what a day without coffee would look like.
I mainly focus on the day-to-day details, which include recording transactions, creating customer invoices, and helping control the cash flow by making sure payments into the business are made. I maintain the balance sheet accounts and assist with any extra daily tasks where needed.
What do you like most about working at Credico?
I like that everyone shares the same vision and is dedicated to the mission. This truly creates a family environment where everybody is there for each other. Having a Financial Manager who is a true leader and appreciates the work I do; he doesn't manage – he mentors. Then lastly, the Credico management team always sees ways to reward you; if it's not with the funny awards, you always get goodies when the company achieves milestones.
What would you like to ask our CEO?
I want to ask our CEO if he has a secret talent that no one knows about?
Can you share the best career or life advice you've received?
My brother gave me the following advice – "Find the solution, not the culprit. Blame does not foster growth".
How do you spend your time when you're not working? 
I absolutely love spending my free time with my family. We're always outdoors – if we're not at home enjoying a day next to the pool, we are busy exploring new little hidden gems in the City of Johannesburg.
If you could have dinner with anyone (and we mean anyone), who would it be and why?
Any decorated army captain – because teamwork in the military is so crucial and can involve life and death situations and decisions.