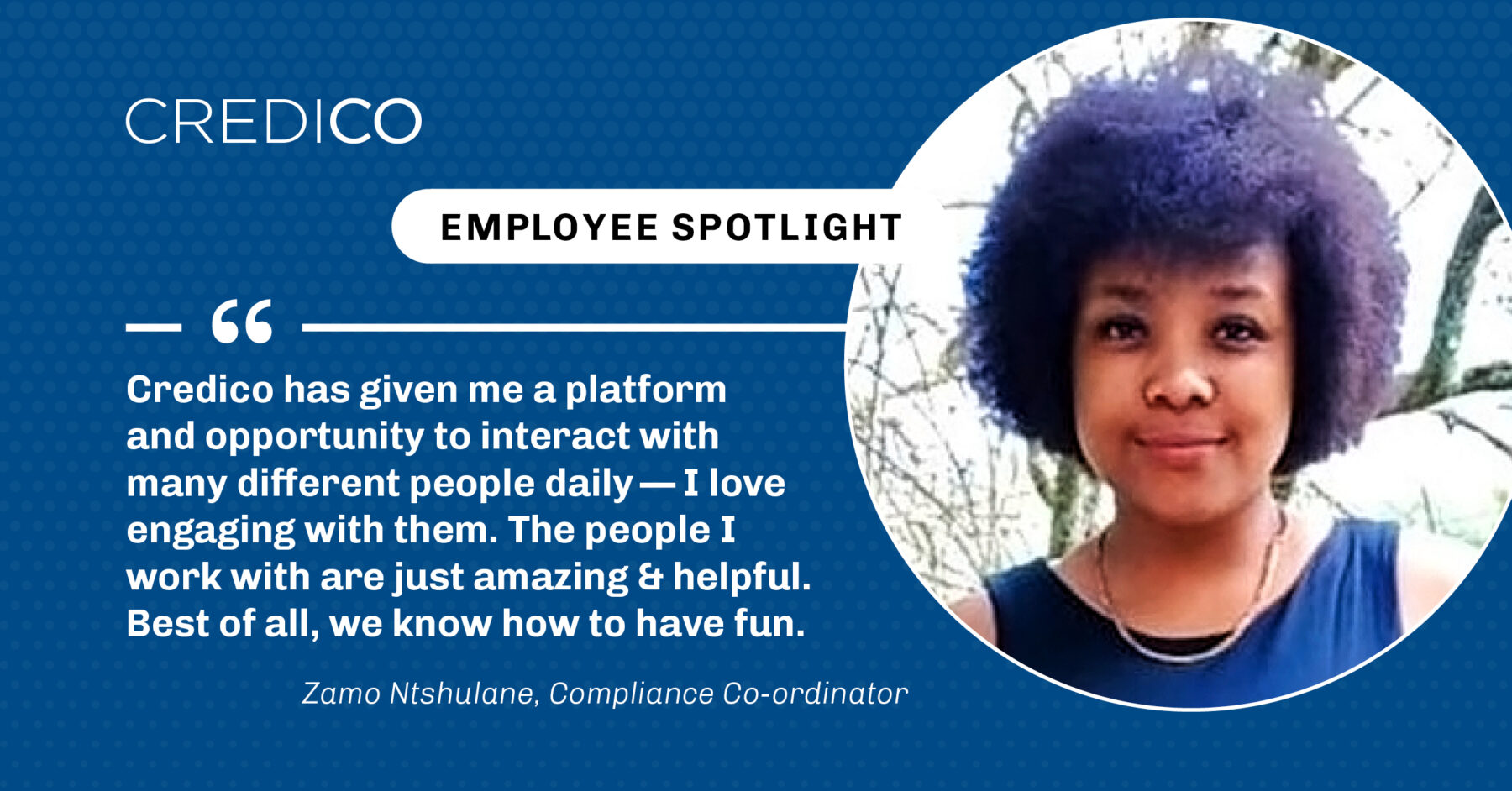 Credico is a well-known global outsourced sales company. With offices in Canada, the United States, the United Kingdom, and South Africa, Credico shares the success of this great organization with our team. We are fortunate to be comprised of an impressive, dedicated, capable team of deeply committed, skilled, and inspiring people who choose to lend their talents to our purpose every day. Like most Employee Spotlight campaigns, the goal is to highlight a team member for who they are and what they do. However, our goal is a little different; we'd like to share the global stage with people who call Credico their work home. 
We'd like to introduce this month's featured employee – Zamo Ntshulane, Compliance Co-ordinator at Credico South Africa. We discuss her five years of investigative experience, the satisfaction of problems well-solved, and finding inspiration in any field.
What do you do at our company?
I am a Compliance Co-ordinator at Credico South Africa.
What brought you to want to work at Credico?
The love of wanting to engage with different people. Credico gave me my first platform of being a Financial Services Trainer, which got me interacting with many different people daily.
How long have you worked at Credico?
I was super excited to receive my five-year service award at our Year End Function. I've been with the business for five years and three months.
What has been your favorite project so far?
It's the investigating part of my job; those that know me know how much of an investigator I can be. They call me "the detective."
Can you take us through a day in the life for you at Credico?
Lots and lots of emails from clients or directly from customers that need to be actioned, and then calling customers or necessary departments in stores for investigation. Interviewing agents to get a holistic overview of related matters, finding solutions, and resolving the matter.
What do you like most about working at Credico?
The people I work with are just amazing and helpful. Best of all, we at Credico just know how to have fun.
What would you like to ask our CEO?
How did he make it this far? From the beginning to where he is now (the good and the bad times).
Can you share the best career or life advice you've received?
My mom gave me some amazing advice: never just look for a job, as that is just temporary. Search for a career, as that is permanent.
How do you spend your time when you're not working?
Hanging out or chilling indoors with my sisters or the whole family, if it's not that, you will find me sleeping.
If you could have dinner with anyone (and we mean anyone), who would it be and why?
It has always been my dream to sit down with Ms. Khanyi Dlomo. Growing up, I looked up to her work ethic as she is a well-established journalist and businesswoman. I never wanted the same job as her, but I've always wanted her strength, courage, and words of encouragement as a young female on how to make it in any career I choose.