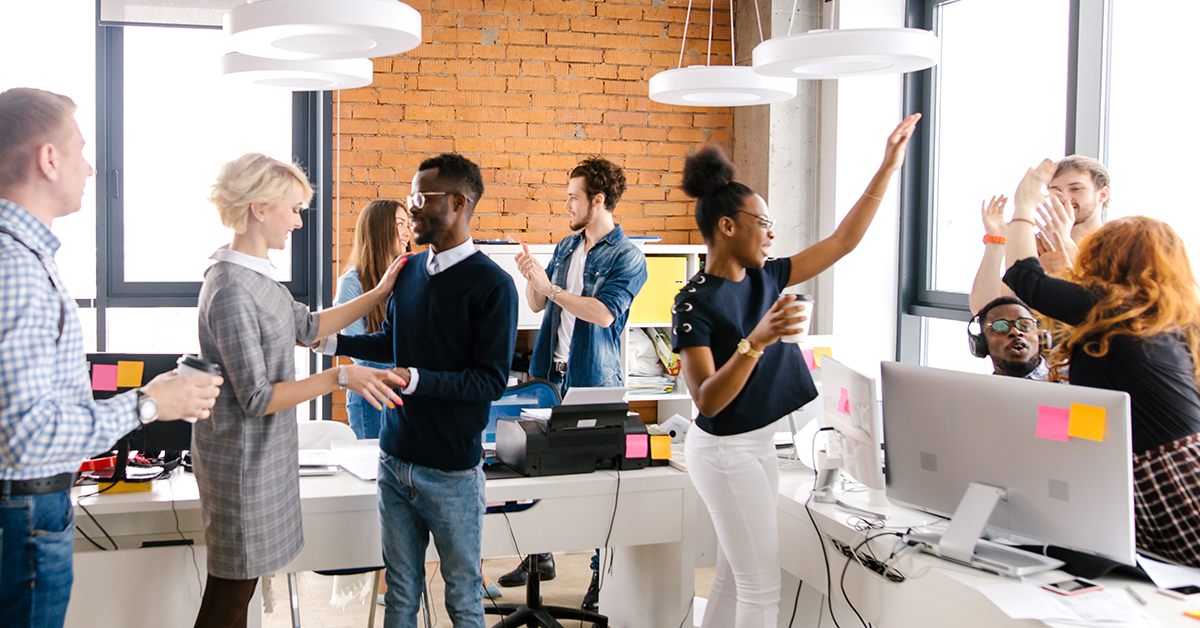 Expressing gratitude is something we could all do more of. Often, we get so preoccupied with the hustle and bustle of daily life that we forget to stop and give thanks for what we have and show appreciation when we can. Giving thanks isn't exclusive to our personal lives. While it is important to appreciate the things we have, like good health, family and friends who love us, a home, and a means to support our lifestyle, it is just as important, if not more, that we are grateful for our work as well. When you're a business owner, being thankful for your clients and employees, the relationships you have cultivated, and your success is good for business.  
The author of The Gratitude Effect, Dr. John Demartini, writes, "gratitude emerges when what we desire and expect matches what actually is." And if you let it, the Gratitude Effect will open your heart, inspire your mind, and awaken your inner strength and hidden seeds of greatness. That's because every one of us has some level of greatness. Whether you're a business owner, client, or employee, you are great in your own way. Dr. Demartini also suggests that gratitude leads to greatness because a grateful heart is the key to success.    
Gratitude as a business strategy is more than sending out "thank you" notes or expressing sincere appreciation when a client or employee does something kind or noteworthy. Implementing gratitude as a core value is your mindset. This way of thinking governs how you do business because it gives your work meaning.  
Legendary sales trainer Tom Hopkins once said, "Keep your eyes open and try to catch people in your company doing something right, then praise them for it." When leadership and business owners adopt gratitude and thanksgiving as guiding principles, the byproduct is a healthy work culture. The 2019 Global Happiness and Wellbeing Policy Report estimates a positive connection between employee well-being and productivity. In fact, "evidence suggests that a meaningful increase in well-being yields, on average, an increase in productivity of about 10%". 
There are plenty of creative ways to show your employees that you value and appreciate them; giving thanks is just one. The employee and employer relationship should be mutual, based on shared respect and appreciation for each other and the company's mission and vision. When employees feel valued and are recognized for their excellent work, they are more likely to be more productive and engaged and stay longer. It takes a village to raise a child; the same goes for running a business. It takes dedicated, inspired employees, invested business clients, and trusted partners. When you can say that you have all three and you can acknowledge it, you are truly successful.   
At Credico, we are grateful for our clients and the trust that we share. We understand our business relationships are vital to the health and success of our organization, and we are humbled by your loyalty and appreciative of your business.   
To our employees, you are the backbone of this organization. For more than 30 years, your commitment to our mission and willingness to share your time and expertise has strengthened the work that we do while helping us grow into the global force that we are today,   
With a sincere heart, we express our heartfelt appreciation for where we are, what we've experienced, and where we are going. But, in the words of John F. Kennedy, "As we express our gratitude, we must never forget that the highest appreciation is not to utter words but to live by them."  
Giving thanks isn't just something we do during Thanksgiving. The holiday season is an opportunity for all of us to remember to count our blessings, reevaluate how we approach the good in our lives, and try to say and be a reflection of our gratitude.  
On behalf of everyone at Credico, for those who celebrate, we wish you and your family a Happy Thanksgiving.