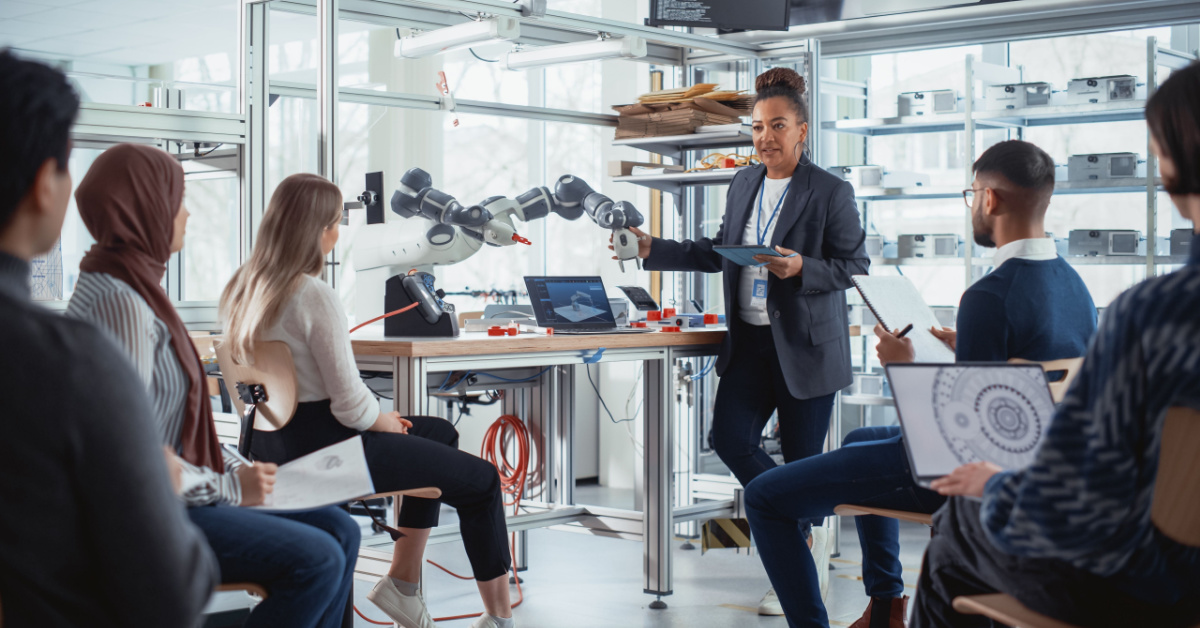 Artificial intelligence, or AI, has become a global phenomenon. While some view this machine learning technology as a tool to help humanity, others see it as a potential threat. It's a scenario that seems straight out of a movie, but it's our reality – a world where humans and machines work together.
Either way you view it, AI is swiftly becoming a permanent fixture in our lives. For businesses, AI can be a valuable asset to the workforce because of its remarkable efficiency and potential to significantly help how we interact with each other. Ironically the concept of AI has been around since the 1950s. It wasn't until recently that it took the world by storm and has become a trending topic we all can't stop discussing.
So what is AI, really? According to the ACM Digital Library, AI is "intelligence—perceiving, synthesizing, and inferring information—demonstrated by machines, as opposed to intelligence displayed by humans or by other animals, which include speech recognition, computer vision, translation between (natural) languages, as well as other mappings of inputs."
As an organization that offers simplified outsourced sales solutions that utilize face-to-face interactions and creative technology applications to help build strong customer relationships for other businesses, we see the potential of AI for both businesses and humanity – assuming it can be leveraged appropriately.
For businesses, AI can simplify and improve our efficiency and how we approach our work. According to a SnapLogic report, AI implementation has led to a 61% increase in worker productivity. The use of AI is expected to boost labor productivity and enhance business efficiency by 67%. A PwC report shows that AI will also automate communication by 70% and enhance data analytics by 59%. And while these stats show how AI will improve our work and how we work, AI is on the verge of removing humans from the sales process. Servion Global Solutions, a customer experience systems integration and management services company, predicts that, by 2025, AI will power 95% of all customer interactions, including live telephone and online conversations, leaving customers unable to 'spot the bot.'
Credico knows that artificial intelligence can enhance our lives by improving efficiency and assisting humans in daily activities. However, it should not aim to replace us and must serve as a tool to strengthen human connections. Despite the rise of digital marketing, face-to-face sales remain important in today's market. Businesses that provide human assistance for customer interactions, live support, and online conversations are likely to experience improved sales and a stronger brand. This is because customers appreciate the human touch of interacting with a person instead of a machine. Sales technology is available to improve B2B sales and connections, but human interaction is still irreplaceable in both business and life.
Artificial intelligence has the capability to enhance and reinforce the bonds between individuals, ultimately strengthening human connections. By employing AI in a thoughtful way, individuals can connect with others on a deeper level, leading to more fulfilling and meaningful relationships. For example, people can spend less time correcting mistakes, instead using that time to stay connected and engaged in the lives of family and friends. Ultimately, the integration of AI in human relationships can lead to a more interconnected and compassionate society because, as Elbert Hubbard said, "One machine can do the work of fifty ordinary men. No machine can do the work of one extraordinary man."
Face-to-face marketing will always remain vital to sales as it allows for genuine human connections. When executed effectively, these connections can be further strengthened by integrating AI, but we must remember that we are reliant on each other as people. This has always been the case before the integration of AI and will continue to be so in the future – regardless of how we utilize technology. The emotions we experience, whether we are in sync with others, surrounded by a community, or even isolated, cannot be replicated. Human interaction is a powerful force that cannot be replaced, especially when we come together, with or without the aid of technology.
If we limit our chances to engage with others, the yearning for those connections will only grow. While AI can undoubtedly enrich our lives, the more we employ it, the more we crave human interaction. As we embrace the benefits of artificial intelligence, it's important to remember the value of human connection. Let's continue prioritizing and nurturing these connections, thoughtfully balancing our implementation of tools like AI as we move forward in the digital age.