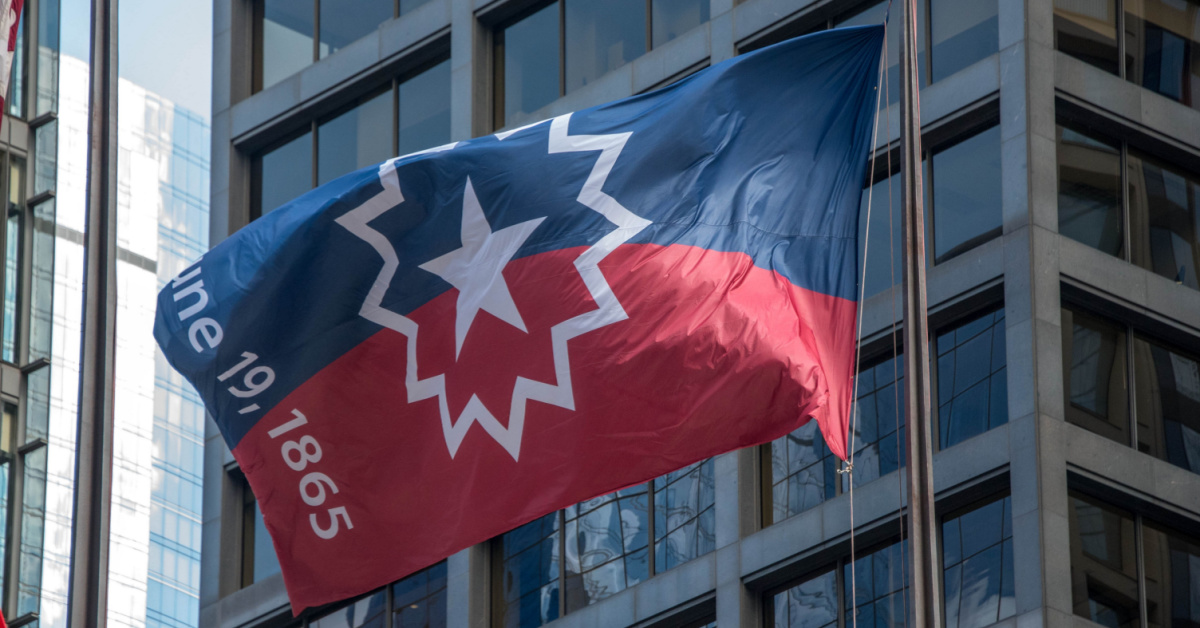 Juneteenth is a historically momentous day in the United States. The once lesser-known yet monumental moment in America's history is now a federally recognized holiday that brings people of all backgrounds and ages together to celebrate freedom. Juneteenth is particularly significant because it represents the end of slavery, a dark era in a country founded on the noble principle of liberty and justice for all.
President Abraham Lincoln signed the Emancipation Proclamation on January 1st, 1864, in an effort to give liberty and justice to all, including the more than 3.5 million enslaved African Americans. However, it did not immediately put an end to slavery, despite its intention to do so. It took almost two years for Black Texans to receive news of their emancipation and finally gain the freedom they deserved and had longed for nearly 400 years. June 19th, 1865, marked the arrival of the order from Major General Gordon Granger, which enforced the emancipation proclamation in Texas and led to the freedom of all remaining enslaved individuals in the state.
Juneteenth, also known as Juneteenth National Independence Day, Jubilee Day, Emancipation Day (in Texas), Freedom Day, and Black Independence Day, is a holiday celebrated on June 19th. Originating in Galveston, Texas, its name combines the words "June" and "nineteenth" to commemorate the order issued by Major Granger, which proclaimed freedom for enslaved people in Texas in 1865 on June 19th. The first Juneteenth was celebrated in 1866, and it gradually gained popularity across the Southern states. Although it was less observed during the Civil Rights Movement of the 1960s, Juneteenth regained popularity in the 1970s and eventually spread to other parts of the country. In 2021, on its 156th anniversary, Juneteenth was recognized as a federal holiday after President Joe Biden signed the Juneteenth National Independence Day Act into law.
Juneteenth is the first new federal holiday since Martin Luther King Jr. Day was established in 1983. These holidays both hold importance in American culture as they focus on civil rights and freedom, which are values that Americans (and all humans) cherish and deserve.
As we observe Juneteenth, we take time to remember the past and learn from it. This day commemorates the freedom of millions of enslaved individuals and serves as a reminder of the progress we have made and must continue to work towards. Juneteenth is not a Black holiday as it is not exclusive to Black history. Juneteenth is American history and an American holiday worth celebrating. It is a time of self-reflection and action. It is an opportunity for all Americans to celebrate their freedom and the true cost of being free.
At Credico, we prioritize inclusivity, equity, and diversity in all aspects of our work. We believe in civil rights, liberty, and justice for everyone, both in the United States and around the world. We strive to uplift and support under-represented individuals by providing access to opportunities. Our dedication to diversity benefits our business and contributes to a better world for all. We know that having a diverse team is important because it helps us better serve our clients and make a positive impact in our communities.
On Juneteenth, we celebrate freedom, humanity, and the power of working together as a society, both locally and globally. This day should serve as a call to action to keep pushing for progress and change so that future generations can enjoy the promise of the Emancipation Proclamation and the Declaration of Independence. After all, we believe that all men are created equal, endowed by their Creator with certain unalienable Rights, including Life, Liberty, and the pursuit of Happiness.
Happy Freedom Day!