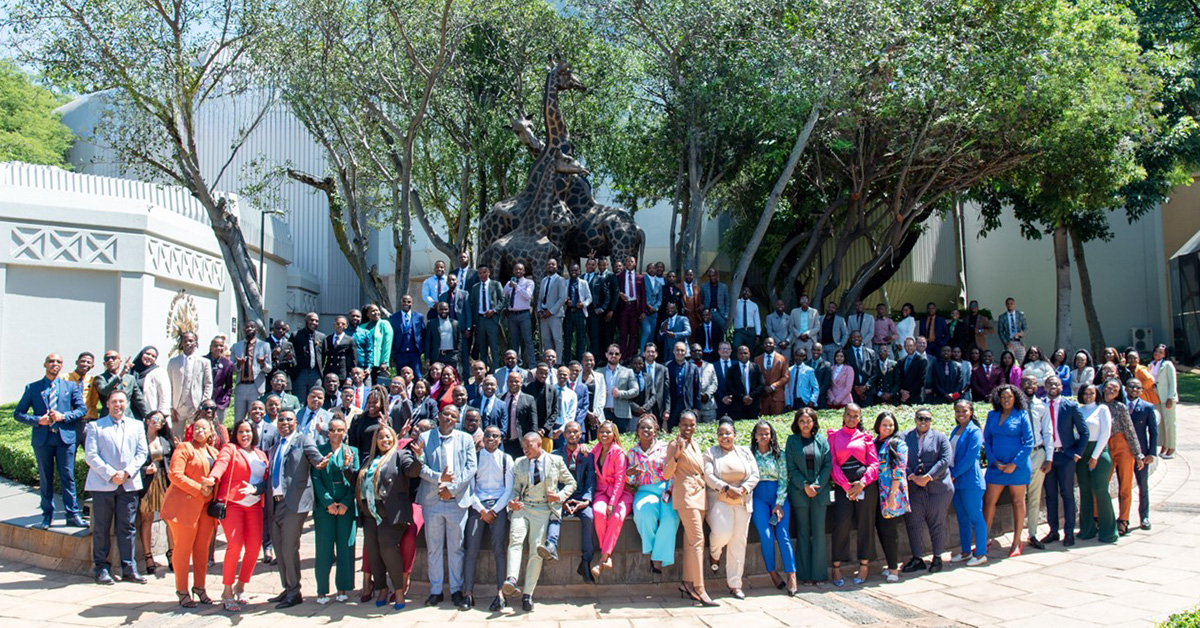 South Africa's 2023 Awards Event was held on 29 – 30 March 2023 at Sun City Resort, located in the Bojanala Region in the North West Province. This world-class luxury destination, built in 1979, sprawls along the border of Pilanesberg National Park and is among the world's most unusually conceived and lavish inland resorts and a perfect place to hold the Awards Gala Event with its extravaganza of luxurious hotels, glittering entertainment centres, restaurants, gaming rooms, shops, clubs, and extensive, beautifully landscaped grounds.
More than just a single glamorous evening, this year's celebration of success started on the 29th of March 2023 with a full-day Owners Conference Meeting. Credico's founder and chairman, Antoine Nohra, and National Consultant Josh Cote from the UK shared valuable knowledge and insights with the group.

The Gala Awards Event began on the evening of March 30th with a champagne welcome. Following some well-earned photo opportunities, nominees and guests alike took their seats and were welcomed by Credico South Africa's CEO, Peter van den Berg. Peter is a respected man in the industry and a mentor to many, always making time to coach and grow new talent. Under his leadership, Credico SA is today recognised as the market leader in developing young entrepreneurs. Peter spoke about the growth and success in South Africa over the last 18 months, expressing excitement about future opportunities. On this positive note, the presentation of awards began by acknowledging some of the country's top achievements.
Kevin de Sousa had the privilege of formally presenting Patrick Maloba with a Santos Cartier watch in honour of his hard work and achievement in ascending to the role of Regional Consultant. Pat (as he is fondly referred to) spoke about the time, effort, and learning curves he went through to advance to Regional Consultant. He spoke about how he succeeded in the industry but later failed due to arrogance and failing to follow the principles that had gained him success. Pat also acknowledged the amazing mentors like Kevin de Sousa, Peter van den Berg, and Joseph Spies, who always believed in him and gave him a second chance, a chance that he grasped with both hands and resulted in him putting East London on the map.
A number of prestigious awards were handed out in honour of the recipients' achievements:
Patrick Illunga then took the stage to present four Recruiter of the Year awards to Queen Risaba, Dineo Ramoraswi, Palesa Mokoena, and Siphele Nkweba. These worthy recipients excel at a vital role in our industry, resulting in ongoing success and growth.
Duisand Mokoena presented the Brand Ambassador Award to Siphokazi Sake, and Naseeba Abrahams presented the Top Sales Award to Njabula Mabaso, a man who is going places and on the path of success. Next, Kgomotso Gulekane announced the recipients of the President's Club Award, including Njabulo Mabaso, Siphamandla Zuma, Litha Mtingane, Clara Swaedi,  Noluvo Tyebileyo, Kevin de Sousa, and Patrick Maloba.
Davita Akaloo presented the next three categories of awards to a dazzling array of entrepreneurs:
The R3 Million Award went to fifteen exceptional business owners: Samke Sikhosana, Duisand Mokoena, Ayanda Sokweba, Patrick Maloba, Davita Akaloo, Grace Motshele, Thabo Sekhu, Monoghan Dace, Siphamandla Zuma, Themba Phala, Blessing Dlalisa, Ayodeji Ademakin, Albin Samba, Frederick Mahlatshana, and Siyabonga Mlonyeni.
The next tier of achievement, the R5 Million Award, was presented to eleven worthy business leaders: Zoleka Ngalonkulu, Clara Swaedi, Zandile Ncanini, Tumelo Morebodi, Irene Ndzondo, Noluvo Tyebileyo, Naseeba Abrahams, Kagiso Maswanganye, Patrick Ilunga, Livhuwani Nemalamangwa, and Antoine Chabala.
And finally, the impressive class of just five R7 Million Rand Award winners included Njabulo Mabaso, Kevin de Sousa, Michelle Makgamatha, Kgomotso Gulekane, and Definite Chikweya.
Next to grace the stage was the man who started it all and made this all possible, founder and chairman of Credico, Antoine Nohra. Bringing incredible excitement and exemplary leadership, attendees enthusiastically responded to his wise words addressing the industry's endless possibilities and opportunities.
Siphamandla Zuma then presented the Most Consistent Owner to Michelle Makgamatha, a lady who sets high standards and sees results. Discipline towards the basics has resulted in a massive change in her business. Thereafter, National Consultant Grant Sherwood presented the Owner's Owner Award to Patrick Maloba, a new award implemented this year. Following that, Joseph Spies presented Most Improved Owner to Noluvo Tyebileyo, who has worked hard and increased her team substantially this year. Patrick Maloba then presented the Comeback Owner of the Year to Kagiso Maswanganye, who told a wonderful story of being challenged and in a difficult position and being able to turn her business around.
The crowd was then very excited to welcome Josh Cote from the UK. Josh has had an impact on many of the South African team and also addressed opportunity and the hunger to succeed. Josh then presented Rookie Owner of the Year, an award close to his heart, to Masabata Maute, another lady to keep an eye on as she plans to stay at number one on her campaign.
As the ceremonies drew to a close, guests eagerly anticipated the announcement of the most prestigious award of the night. Celebratory confetti cannons glittered across the stage as Njabulo Mabaso was announced as the Owner of the Year. Njabulo is a dedicated, hard-working individual who leads his team with passion, sacrifice, and discipline. He prioritises hard work and high standards to achieve his goals and strive to perform better, and his work ethic is evident in the three trophies he took home this evening.
Buzzing with the excitement of the evening, the celebrations continued well into the night. The entertainment included MiCasa, an award-winning South African favourite, ensuring the dance floor was packed, and then an amazing DJ kept the crowd on their feet until the early morning hours. Valuable connections were made over delicious food, delightful drinks, and the buoyancy of an incredible evening of excellence and reward.
A hearty congratulations to all award winners, nominees, and entrepreneurs striving for the stage in 2024! And a special thanks to all the Credico clients, without whom our collaborative business growth and success would not be possible.