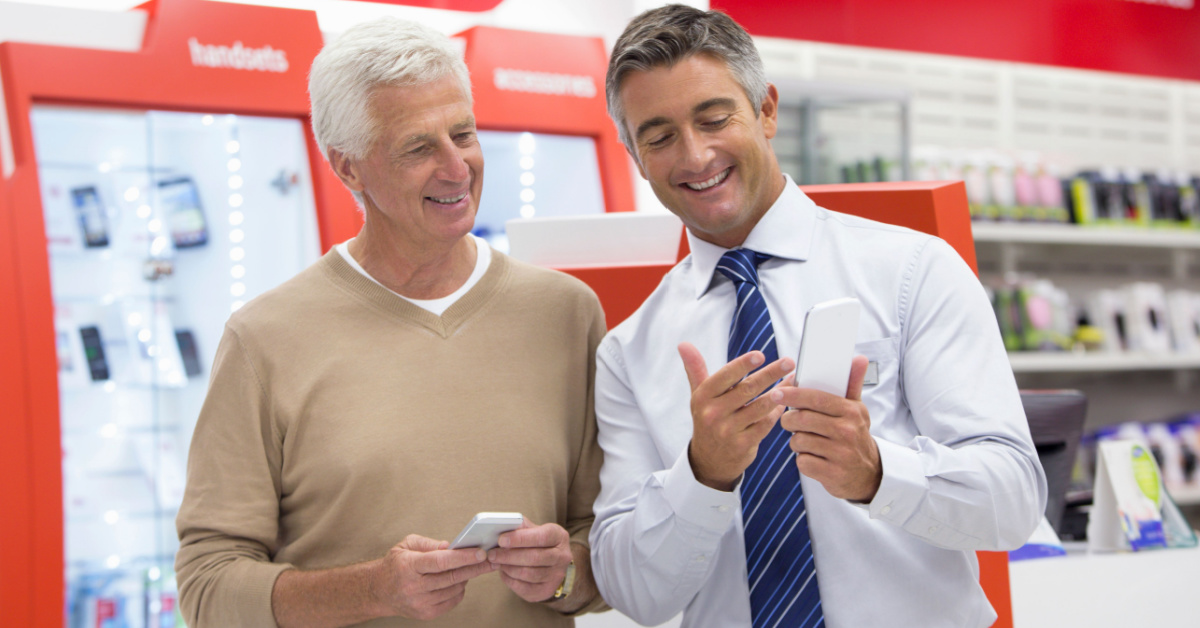 Do your customers prefer shopping in-store or online? It's an ongoing battle to attract the interest and loyalty of both online and retail customers. On the one hand, there are tons of benefits to shopping online. Thanks to the convenience of shopping from anywhere in the world and the selection and availability offered to online shoppers, a customer's decision to purchase online is straightforward.
But believe it or not, there are still lots of retail customers who still enjoy shopping in-store! Shopping in-person still provides just as many, if not more, benefits as shopping online, despite its popularity and convenience. For example, when shopping in-store, a customer can physically see, hold, and try their selected items and use them right away. They can also speak with a knowledgeable salesperson to ensure their purchase meets their specific needs. This leads to the main reason an in-person shopper is valuable: human interaction.
"More than one-third of consumers in the UK, Australia, and New Zealand say a sense of community is a top motivator to visit local shops," per Shopify. To continue offering this purchasing option and foster genuine customer loyalty and a sense of belonging, it is crucial to cater to the demands of in-store, in-person customers. It is advantageous to the community, your customers, and your business.
Brand loyalty results from knowing what your customers need, want, and require, especially for those who enjoy in-person shopping. Understanding in-store customers' unique needs is essential to building in-store shopper loyalty. As online shopping becomes more convenient and popular, it is more important than ever for retail businesses to take note of and implement a strategy based on this evolving trend. Here are seven needs important to the in-store shopping demographic:
Price
According to Prisync, 60% of consumers consider pricing as the very first criterion in their buying decision. This rises from 15 to 20% in difficult economic situations, when competitive pricing becomes even more crucial.
Reliability
Reliability applies to both the service need and product needs. Is your store reliably open at posted hours, with reliably trustworthy, friendly staff, selling reliable and valuable products? The in-store client needs both to be consistent.
Empathy
69% of UK consumers state that it is important for businesses to act with empathy when dealing with them as a customer today, per a 2021 DirectCommerce survey. Consumers want to do business with brands that proactively offer solutions and support.
Transparency + Fairness
Any savvy customer knows that no product is perfect, and they don't necessarily expect perfection, either. Put yourself in their shoes and be forthcoming about price, service, and what your product can and cannot do. While he may not be a big retail shopper, even the Dalai Lama knows that "a lack of transparency results in mistrust and a deep sense of insecurity."
Functionality
Does your product perform in the way it is intended? This is important because customers want to get what they paid for. An in-store shopper can immediately determine whether your offering meets their standards and needs, so make that first impression a good one.
Friendliness
Is every step of the purchasing experience a good one? If so, this rapport strengthens your customers' connection and community. Additionally, a friendly brand image increases the possibility of future sales.
Usability
The more user-friendly your product is, the better it is. And if your product is compatible with other products the customer has, that's even better. And if your customer can't live without your product, you've got a customer for life.
Why is meeting these needs so important? Well, the in-person shopping market remains important to the economy. Still, it can be overlooked because it is perceived by many businesses that online shoppers are of a higher priority. In actuality, statistics show that investing in your in-person customer base in the United Kingdom is valuable and necessary.
To prove the purchasing power of this demographic, Trading Economics revealed that in the UK, retail sales for February 2023 surprisingly increased 1.2% month over month, which is the largest growth over the past four months. Considering nearly 80% of customers will go into a store when there is an item they need or want now, according to Think with Google, non-digital shoppers are worth understanding as they can sustain your business sales.
Per Retail Economics, online retail sales in the UK have more than tripled in the last ten years. While the e-commerce market grew enormously with the pandemic at 46.5% in 2020 and by 20.5% in 2021, this growth rate is expected to continue to slow down further. Here are some additional figures to further demonstrate the issue at hand:
As of 2021, in-store shopping was still more popular than online shopping, with 80.9% of sales being offline and 19.1% online. Zippia
The month-on-month rise in overall sales volumes was driven by a 3.6 per cent rebound in "other stores," pointing to strong growth in departments such as cosmetics, furniture, and jewelry. UK Financial Times
46% of brands are investing in showrooming to improve the in-store experience over the next year. Shopify
One more customer need to make a note of is omnichannel marketing. Credico UK is a leader in omnichannel sales. We understand that a digital presence is more important today than ever, as 63% of all shopping journeys begin online, whether the consumer ultimately makes their purchase online or in-store. With many people starting their shopping online, Credico UK can bring our client's products or services to the target customer through a strong online marketing campaign while meeting the needs of your in-store shoppers.
The in-store shopping experience is like no other. This form of marketing marries both online and in-person without neglecting either. Having both options while providing an incredible in-store experience is a way to meet this fundamental need of your shoppers and yet another way to build brand loyalty.