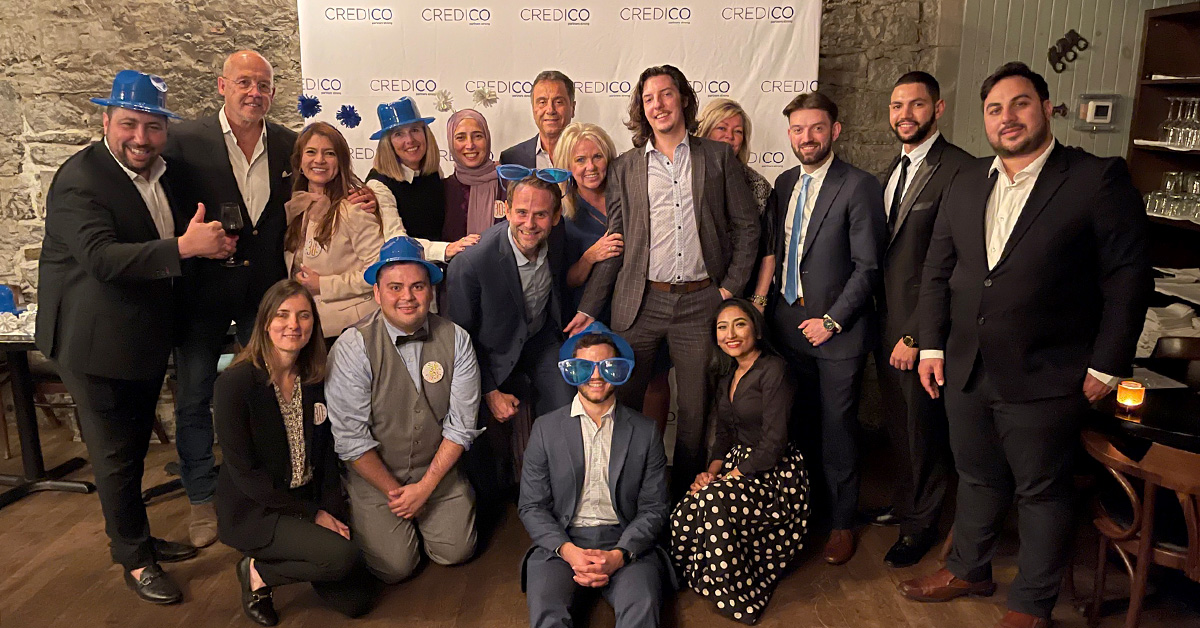 It's called CANJam, Canada's version of the NAMJam, the annual event where national account managers get the opportunity to meet, greet, exchange best practices, collaborate, and, of course, jam.
This year's CANJam welcomed team members from both Canada and the US to Montréal from October 12th-14th. During the two-day meeting, attendees took full advantage of the time together, reviewing plans and strategies for Credico Canada. In the evenings, everyone gathered for food and fun: a bowling night, a steakhouse dinner at 40 Westt, an anniversary celebration complete with cake and gifts, and a fantastic meal at popular restaurant Modavie in Old Montréal.
"It was amazing to reconnect and celebrate with some of the Québec ISOs, our client, and colleagues," said Michelle Smith, Credico's Canadian Vice President of Client Relations. "Since the onset of the pandemic, this was our first visit to Québec and the first opportunity for many of us to meet and interact in person."
The dual theme of the two-day event was reconnection and celebration. The team welcomed the two newest hires who started during the pandemic, and another remote team member flew in from France. COO John Zavoyna landed on Tuesday with two Chicago-based account managers,
"The human connection was really big – meeting the team in person was the most important part of the journey," said junior account manager Leopold Delannoy. "It was really nice to meet everyone, get a feel for their personalities and see the relationships they have with each other."
"After working remotely for so long, it had been hard to imagine everyone being together. It was great to be with everyone and build a sense of community," added account manager Anthony Morales. "When you're in the office interacting for a full day, you can see beyond the business persona that gets shut off when a remote meeting ends. You get a better sense of closeness when you meet in person, bridging the gap of a typical video chat."
The team took advantage of being together again to review plans and strategies specific to Credico Canada. The account managers visited a client with the NAMs to see how they operate in the field before reconvening in Old Montréal – considering that Credico is celebrating its 30th anniversary, the hosts used this occasion to commemorate this significant milestone. A 30th-anniversary cake adorned with Credico's commemorative logo sweetened the night before the team bowling outing to wrap up the three-day event.
"It was an integrated approach to celebrate Canada being open again and to celebrate our 30th along with Nada's 20th anniversary," said Smith.
Nada Jallad is a 20-year Credico team member. She has the second-longest tenure next to Antoine Nohra, Credico's founder. However, Nada is more than an administrative assistant. She is Credico's resident historian and beloved friendly voice and face. With this in mind, the first night of the CANJam was kicked off at a fantastic celebratory meal demonstrating our appreciation of Nada's two-decade commitment and dedication, sharing gifts and fond memories from over the years.
Everyone in attendance was required to show proof of their vaccination status. In addition, the office provided plenty of hand sanitizer and masks to ensure the team followed standard COVID-19 safety protocols.
To continue the excitement and energy of this year's CANJam, the Canadian team is planning several similar celebratory events in the coming weeks.
"It definitely felt celebratory and amazing to see everyone in person. CANJam 2021 was a great success and we look forward to next year," said Smith.